Alan Jackson's Mother, Mrs. Ruth Jackson, Has Died at 86
We're sending our condolences to Alan Jackson after losing his mother Saturday, Jan. 7, 2017.
Mrs. Ruth Jackson was known to friends, family and country fans as "Mama Ruth." She died peacefully at her home in Newnan, Georgia. He was 86.
Mama Ruth was born on April 2, 1930, in Lowell, Georgia. She married her husband, Joseph Eugene "Daddy Gene" Jackson, when she was 16 and had five children, daughters Diane, Cathy, Carol and Connie, and son Alan. She is survived by all her children as well as 12 grandchildren and 9 great-grandchildren. Her husband passed in January of 2000.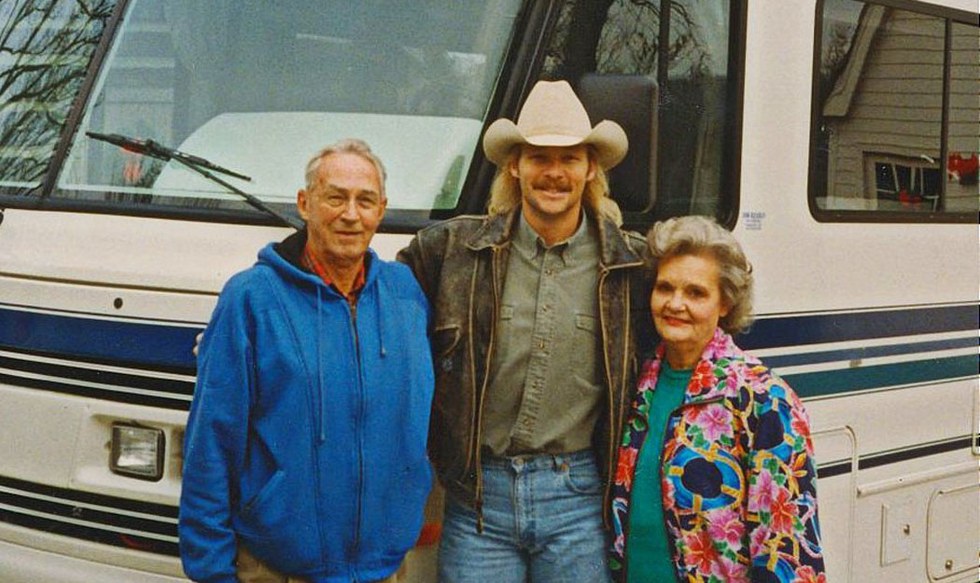 Courtesy of Alan Jackson
Many of Jackson's fans got to know his mother through his music. "Home," a song Alan wrote and recorded for his debut album, chronicled his parents' life and his upbringing, as well as the home -- built around an old tool shed 70 years ago -- that she lived in until the day she died:
My mama raised five children – four girls, and there was me.
She found her strength in faith in God and a love of family.
She never had a social life; home was all she knew
Except the time she took a job to pay a bill or two.
Mama Ruth was also the inspiration behind Jackson's Precious Memories gospel hymn collection that was creates as a Mother's Day gift and was never intended to be released commercially. Alan's second holiday album, Let it Be Christmas, was also created as a result of Mama Ruth's desire to hear her son record traditional holiday songs.
To read more about the life of Mrs. Ruth Musick "Mama Ruth" Jackson, go to www.McKoon.com.
Listen, I get it. I love Taylor Swift. Once, after Red came out, I asked my friends if they wanted to have an informal discussion group about it. Kind of like a book club, but about an album. No one wanted to be in it, but maybe I should've asked Katy Perry because she still has things to say about Tay.
Keep reading...
Show less
Julianne Hough and new husband Brooks Laich are currently on their honeymoon on the private Fregate Island in the Seychelles off the coast of Africa. And each time they post a picture, we're ready to hit the beach. Or maybe the gym. Definitely the gym, then the beach.
Or maybe we can just do a lot of dancing? Like, a lot of it?
Keep reading...
Show less
Jul. 19, 2017 06:07PM EST
If you've ever had a chance to sit on the front row of a concert you know it's a pretty cool spot. And depending on your level of fortune, you know it's a pretty pricy spot or a pretty lucky spot.
This girl at a recent Luke Bryan show in New Jersey did not care about either.
Keep reading...
Show less
Jul. 19, 2017 11:42AM EST
When little kids appear on reality TV talent shows you never know what to expect-- will it be cute? Hilarious? Awful? Or absolutely incredible? Angelica Hale falls into the last category.
Keep reading...
Show less
Blake Shelton has released an animated music video to accompany his If I'm Honest track "Doing It To Country Songs." The track, which features the Oak Ridge Boys, features many-a-critter singing, dancing, and otherwise enjoying Blake Shelton. It's also chock-full of innuendo, a common trope in both animated films and country music.
Keep reading...
Show less
Charlie Worsham is in the business of giving back and for the third time this month he hosted a benefit concert for his Follow Your Heart Scholarship Fund. The fund provides guitars and lessons to kids in his home state of Mississippi and his most recent sold out show was a guitar lover's dream come true.
Worsham gathered a few of his famous Nashville friends and put on a #JohnMayerthon for those in attendance at Basement East in Nashville. Each guest got to play their favorite Mayer tune and eventually, they all came together for one hell of a performance of "Daughters."
Keep reading...
Show less
In 2006, a study published by the University of Oklahoma found that people really bond by sharing negative attitudes about others. The study found, "We propose that sharing a negative—as compared to a positive—attitude about a third party is particularly effective in promoting closeness between people. Findings from two survey studies and an experiment support this idea. In Studies 1 and 2, participants' open-ended responses revealed a tendency to recall sharing with their closest friends more negative than positive attitudes about other people. Study 3 established that discovering a shared negative attitude about a target person predicted liking for a stranger more strongly than discovering a shared positive attitude (but only when attitudes were weak). Presumably, sharing negative attitudes is alluring because it establishes in-group/out-group boundaries, boosts self-esteem, and conveys highly diagnostic information about attitude holders. Despite the apparent ubiquity of this effect, participants seemed unaware of it. Instead, they asserted that sharing positive attitudes about others would be particularly effective in promoting closeness."
It should also be noted that the study was done by researchers from OU and their most-hated rival, the University of Texas.
Keep reading...
Show less
Keep reading...
Show less


Get One Country in your inbox