Alan Jackson's Mother, Mrs. Ruth Jackson, Has Died at 86
We're sending our condolences to Alan Jackson after losing his mother Saturday, Jan. 7, 2017.
Mrs. Ruth Jackson was known to friends, family and country fans as "Mama Ruth." She died peacefully at her home in Newnan, Georgia. He was 86.
Mama Ruth was born on April 2, 1930, in Lowell, Georgia. She married her husband, Joseph Eugene "Daddy Gene" Jackson, when she was 16 and had five children, daughters Diane, Cathy, Carol and Connie, and son Alan. She is survived by all her children as well as 12 grandchildren and 9 great-grandchildren. Her husband passed in January of 2000.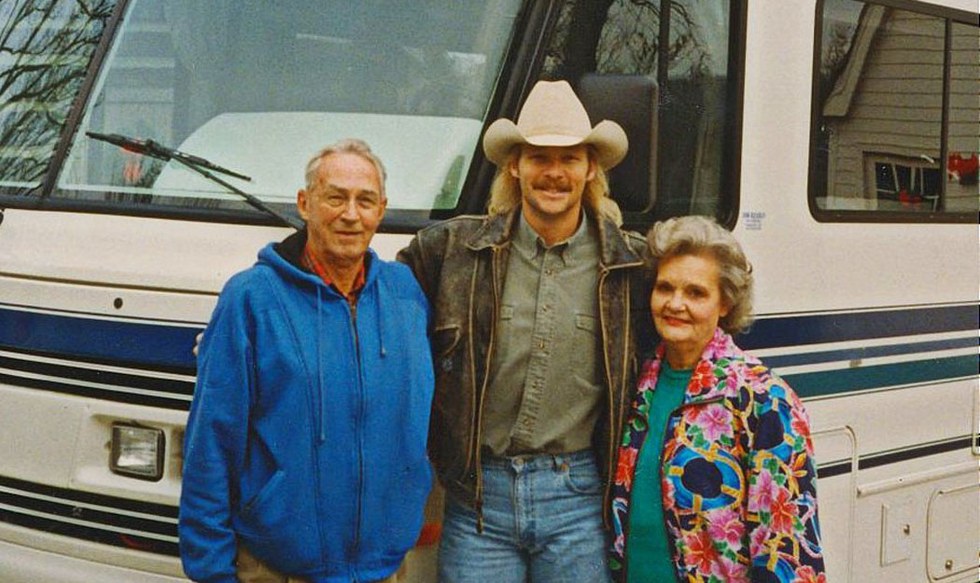 Courtesy of Alan Jackson
Many of Jackson's fans got to know his mother through his music. "Home," a song Alan wrote and recorded for his debut album, chronicled his parents' life and his upbringing, as well as the home -- built around an old tool shed 70 years ago -- that she lived in until the day she died:
My mama raised five children – four girls, and there was me.
She found her strength in faith in God and a love of family.
She never had a social life; home was all she knew
Except the time she took a job to pay a bill or two.
Mama Ruth was also the inspiration behind Jackson's Precious Memories gospel hymn collection that was creates as a Mother's Day gift and was never intended to be released commercially. Alan's second holiday album, Let it Be Christmas, was also created as a result of Mama Ruth's desire to hear her son record traditional holiday songs.
To read more about the life of Mrs. Ruth Musick "Mama Ruth" Jackson, go to www.McKoon.com.
May. 26, 2017 08:52PM EST
If you're like most of the world, you became completely and totally obsessed with the Pearson family and "This Is Us" this fall.
Keep reading...
Show less
May. 26, 2017 01:43PM EST
Nicole Kidman has four films premiering at the Cannes Film Festival this year and thanks to Keith Urban's tour schedule-- he was right there with her on the red carpet.
Keep reading...
Show less
May. 26, 2017 09:05PM EST
Keep reading...
Show less
May. 23, 2017 01:33PM EST
I will say-- if you would've asked me in 2002, who would end up a big-time mogul and consistently creating between Britney Spears, Christina Aguilera, Jessica Simpson and Mandy Moore, I'm not sure I would've said Jessica Simpson.
Keep reading...
Show less
May. 24, 2017 03:48PM EST
Keep reading...
Show less
May. 25, 2017 01:30PM EST
If you missed ABC's remake of the classic "Dirty Dancing," you only missed the opportunity to see what happens when you try to reinvent an eternal classic by adding a Pussycat Doll into the mix. Of course, the Internet had a lot to say about one of the saddest primetime made-for-TV movies ever.
Keep reading...
Show less
May. 26, 2017 04:49PM EST
I've always said I'm glad social media didn't exist when I was in middle school. I would've had more terrible YouTube videos out there than one could ever imagine.
Keep reading...
Show less
May. 26, 2017 02:51PM EST
If you don't watch "CBS Sunday Morning," you're missing out on one of the most enlightening and endearing shows on TV. Like a lot of things I do on Sunday, I religiously watch this show. Last week, Jessica Simpson was interviewed and I didn't think much of it, until I saw that super weird interview on "The Ellen Show."
Keep reading...
Show less
May. 26, 2017 03:32PM EST
Dwayne "The Rock" Johnson has played some incredible roles over the years. From his years as a cocky tough guy in the squared circle, to a guy that is racing to Witch Mountain (Which mountain? THAT mountain!).
Keep reading...
Show less


Get One Country in your inbox