7 Best Country Music Albums of the Year
As we near the end of 2016, it's only fitting that One Country shares a few of those classic, end of the year lists. Like you, we are kind of bored with the typical end of the year lists, so we're putting our own spin on a few!
This year for One Country's Best Country Albums of the Year list, we combined the picks from our two biggest country music connoisseurs. There were a few crossovers, but most notably-- this was a standout year for the ladies of country music. Any album released in 2016 was considered.
1. Midwest Farmer's Daughter // Margo Price (JS)
With a songwriting pen as strong as Loretta Lynn's and Dolly Parton's, Price shattered the glass ceiling with her debut album. Her voice is unmistakable and easily identified with the honky-tonk era of country music--just take a listen to such gems as "Hurtin' on the Bottle," "About to Find Out" and "Desperate and Depressed." There is a quaking wit and boldness not many have today, and she's not afraid to call it like she sees it. "This Town Gets Around" is an especially delightful moment, as she takes direct aim at the music business and how hard it is to break through the clutter. When she pulls back the reigns, as she does with "World's Greatest Loser," she demonstrates the power in the haunting quiet.
Highlights: "Hands of Time," "Hurtin' on the Bottle," "Tennessee Song," "This Town Gets Around," "How the Mighty Have Fallen"

2. The Bird & The Rifle // Lori McKenna (LC)
McKenna's 10th album was produced by the fantastic Dave Cobb and is up for Best Americana Album at the 2017 GRAMMYs. I think it will be strongly considered for CMA Album of the Year during the 51st annual show too. McKenna's stories and lyrics are raw and truthful. She also carries a profoundness in every note she sings. The Bird & The Rifle makes you hurt in the way that only really good music can.
Highlights: "Wreck You," "The Bird & The Rifle," "Old Men Young Women"


3. Big Day in a Small Town // Brandy Clark (JS)
The Grammy-nominated disc is a concept album about one particularly fanciful day in middle America. There is plenty of gossip ("Soap Opera," "Big Day in a Small Town"), reflections on aging ("Homecoming Queen") and "Drinkin' Smokin' Cheatin'" to be larger-than-life but rooted in reality. Her most impressive moments are when she is at her most vulnerable, as she is on "Three Kids No Husband" (about a woman struggling as a single parent) and "Since You've Gone to Heaven," in which she remembers a long lost soul gone from this earth.
Highlights: "Soap Opera," "Homecoming Queen," "Three Kids No Husband," "Since You've Gone to Heaven"
4. The Weight of These Wings // Miranda Lambert (JS)
Lambert bares her soul on her risky double-album. Anchored by the introspective and potent lead single "Vice," the 24-track collection is heavy on the balladry and devoted to peeling back the layers of heartache and misery. As the apt follow-up to 2014's more polished Platinum record, Lambert goes all in on this straight-chaser Americana album. Music Row wanted more mainstream friendly material, and she didn't care. She is far less concerned about radio hits these days--even though "We Should Be Friends" is one of the album's most accessible tracks--and far more interested in her craft, in telling real stories about real people and staying true to herself. Split into two halves, "The Nerve" and "The Heart," Wings barrels through self-loathing, addictive hookups and booze as a way to cope and heal. Ultimately, she does but not without collecting a few more scars along the way.
Highlights: "Use My Heart," "Tin Man," "To Learn Her," "Pushin' Time"


5. Pawn Shop // Brothers Osborne (LC)
With the help of Nashville heavyweights (Shane McAnally, Ross Copperman, Craig Wiseman) and their close friends and songwriting community (Maren Morris, Ryan Hurd) the Brothers co-wrote each song on the album which propelled them to a CMA Vocal Duo of the Year win. Pawn Shop is some swampy, funky goodness that manages to capture a new side of American country music fans. To date, two songs off the debut project have garnered GRAMMY nominations to along with their widely loved and accepted grins in Nashville.
Highlights: "Stay A Little Longer," "Greener Pastures," "American Crazy," "21 Summer"



6. A Sailor's Guide to Earth // Sturgill Simpson (JS)
Simpson's third album is not your typical Simpson album. His 2014 landmark release Metamodern Sounds in Country Music put him on the map, and instead of continuing along that musical strain of honky-tonk branded music, he ventures into the sea of jazz, funk, rock and soul music on the follow-up. Rich in brassy horns and sweeping orchestral arrangements, A Sailor's Guide to Earth is a well-plotted concept album into all matters of the heart. Seafaring sounds are peppered throughout the project, to remind the listener of his personal voyage. Even covering Nirvana's "In Bloom" is a refreshing surprise, as he was made for that style of music.

Highlights: "Breakers Roar," "Brace for Impact (Live a Little)," "Oh Sarah"
7. Hero // Maren Morris (LC)
Morris' debut album was nominated for CMA Album of the Year and Best Country Album at the GRAMMYs. Each and every track on the album is full of Morris' soulful, country-fied vibe and her unprecedented use of the word "shit" throughout was done so productively and effectively, I'm convinced there are no other words she could have even use in its place. Without a doubt, this album will go down as one of the greatest country music debuts of all-time and likely a record that will be noted on timelines for years to come.

Highlights: "Rich," "My Church," "I Wish I Was," "Drunk Girls Don't Cry"
And the others:
Ripcord // Keith Urban
The more I listened to Ripcord the more I figured out the cohesiveness of it all. It was easily the most progressive album of the year.
Black // Dierks Bentley
Bentley does concept albums better than most, whether he calls them that or not. Black is full of fun, sing-along anthems and sexy grown-up country music too. Bentley is truly at his best right now, but he has been for a while.
Pure & Simple // Dolly Parton
Parton's 43rd studio album was as good as any she's released. The traditionalism seeped through her breathy vocals like she's still in her prime-- which she is.
Lady Antebellum
Aug. 18, 2017 02:43PM EST
Lady Antebellum's Hillary Scott is having a baby ... or two!
Keep reading...
Show less
Popular
Aug. 18, 2017 08:45AM EST
Miley Cyrus' new album Younger Now promises to bring Miley Cyrus back to country music. In preparation for the album Miley has softened her image and bought a palatial country home in Nashville signaling that she truly desires to return to the music heritage of her youth. The first single off the album is the title track is a love letter written to country fans defending her past and laying out a hope for her future.
Keep reading...
Show less
Taylor Swift's Web site is blank. Her Twitter profile exists, but there's no profile picture-- same goes for Facebook. Don't get me started on her Instagram-- she deleted all of the photos.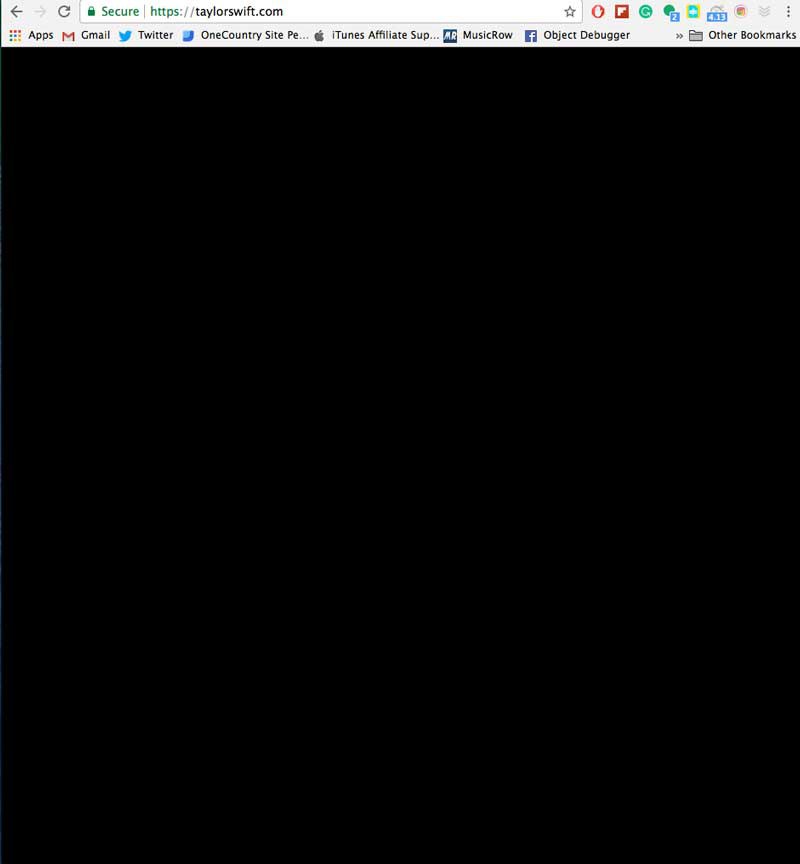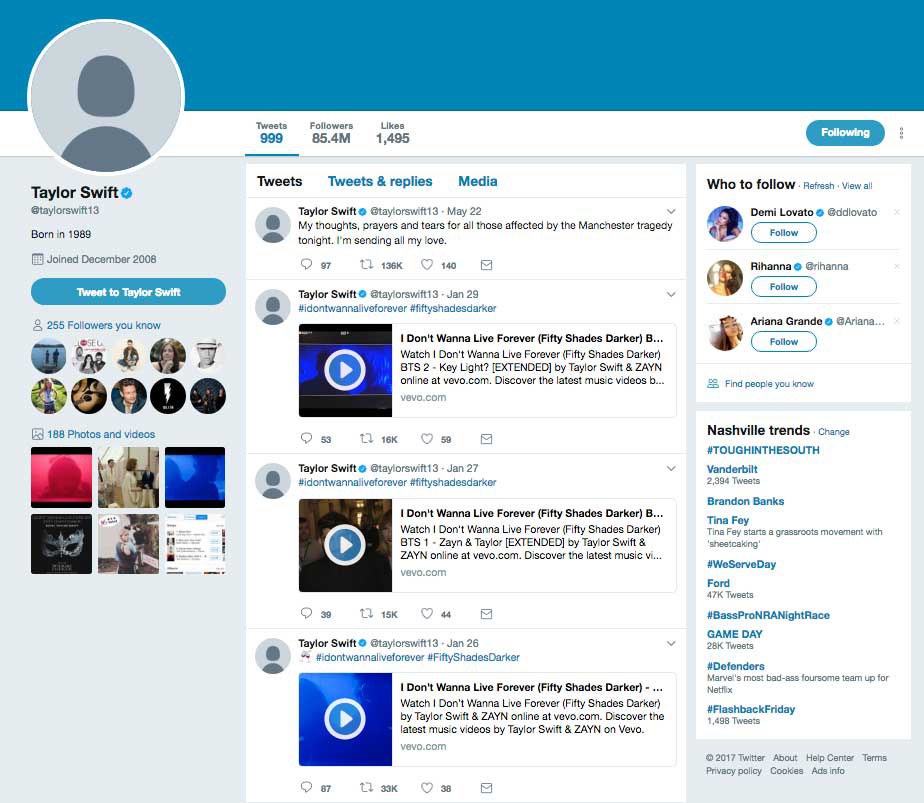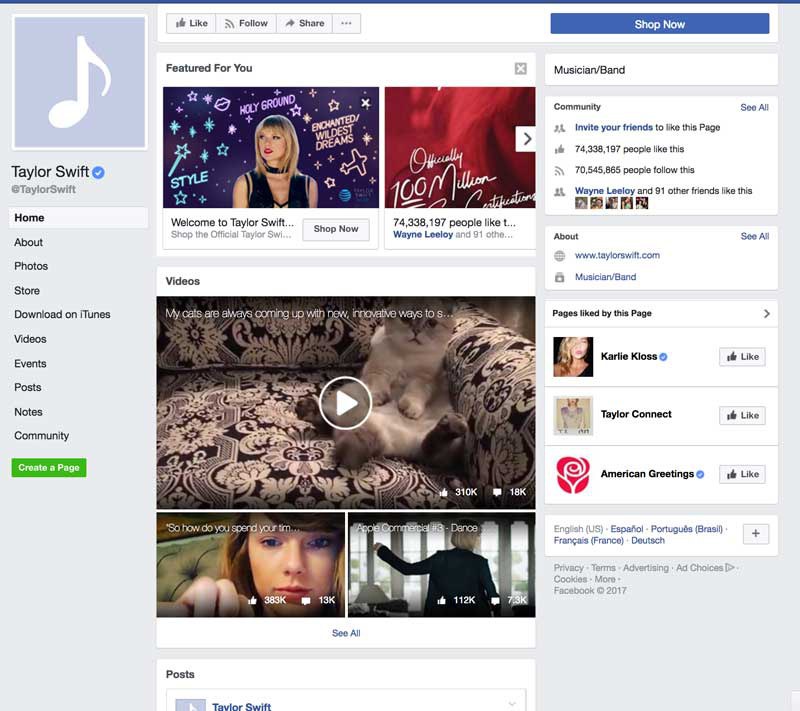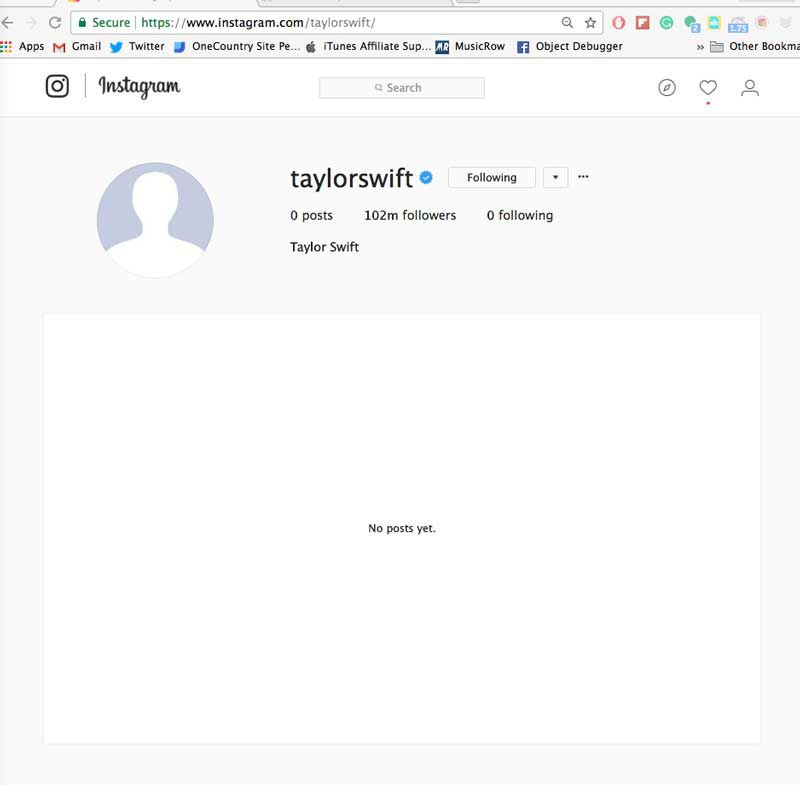 Just days ago Swift won her sexual assault case against a Denver DJ who groped her before a 2013 concert. Before that, we saw Swift in February during her only scheduled concert of the year. There was a brief commotion over the possibility of her being carried out of her New York City apartment in a suitcase and she supposedly has a new boyfriend, but really-- Swift has been totally off-the-grid.
Swift hasn't tweeted since May and her few Instagram posts this year were about new music from friends.
But, now a total blackout of her online existence? It can only mean one thing-- she's about to shut it down, only to bring it back to life like never before.
Forget everything you thought you knew about Swift because this is going to be epic.
Popular
Aug. 17, 2017 09:05AM EST
Kelsea Ballerini knows what's up. Not only has she become a massive country music star in the last couple of years, she's also becoming known for her down-to-earth advice and very approachable vibe. A couple of years ago, people started comparing her legs to Carrie Underwood's-- a compliment for the ages, sure. But, when asked her workout routine she just said she walks her dog and tries to go easy on the chicken tenders every now and then. (Results definitely not guaranteed.)
When it comes to beauty advice, Kelsea's not trying to talk about some product you can only buy in France under a bridge from someone who once walked past Gwyneth Paltrow-- she's throwing out real helpful advice.
Kelsea told the Grand Ole Opry that it's all about washing your face-- simple, yet effective.
But, really, she started slinging knowledge when she shared some advice from her mom, "My mom told me when I was younger... you either play up the eyes or the lip, but you can't do both because you'd look crazy."
This is the type of advice that should hang on the walls of middle schools everywhere-- kind of like the "hang in there" cat poster.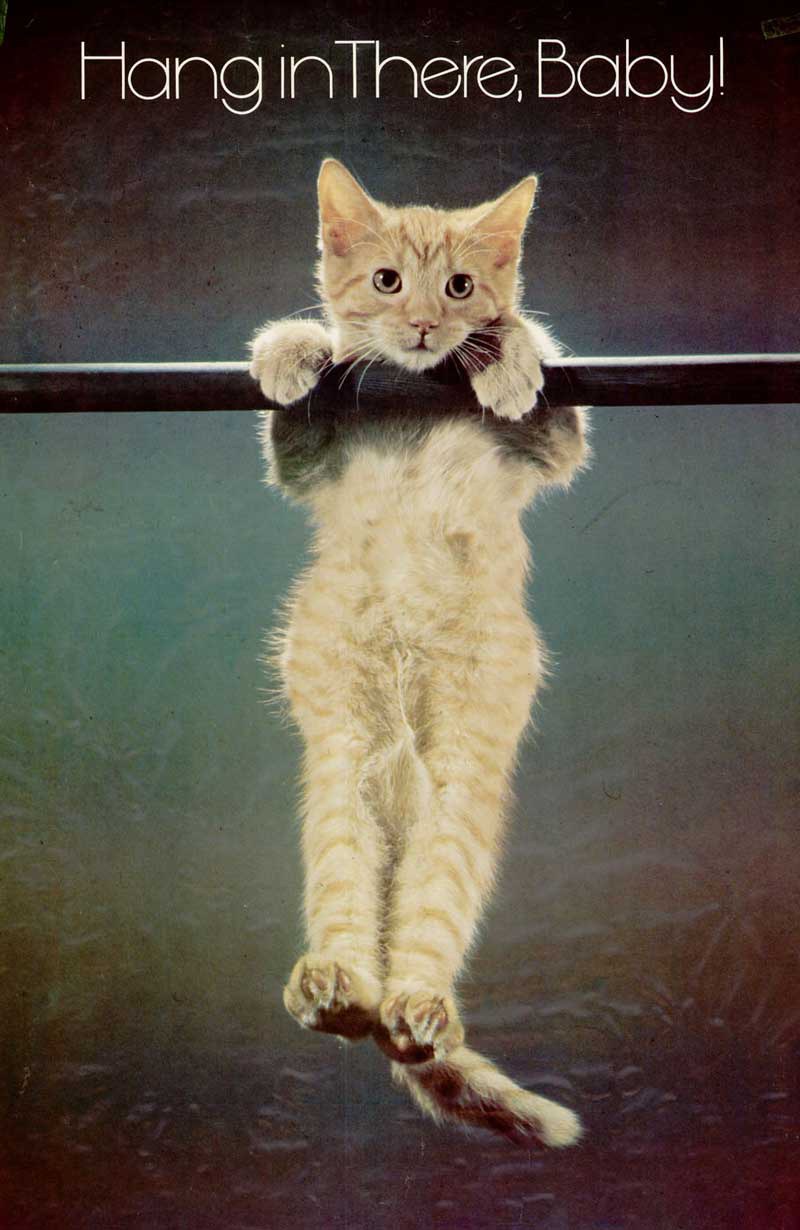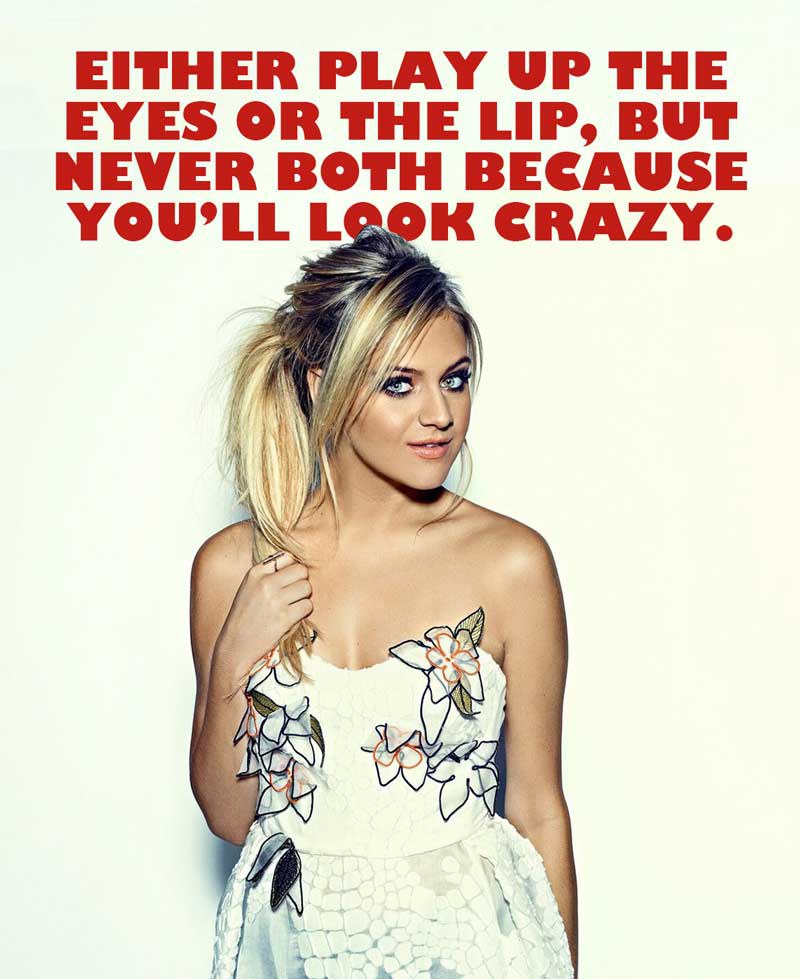 Jason Aldean
Aug. 18, 2017 10:45AM EST
Keep reading...
Show less
Everywhere you turn these days there is excitement for the solar eclipse. I can't blame people either. A total solar eclipse is a once-in-a-generation event so unique that people take vacations and travel oversees to catch them. But with all the buzz about the solar event, a lot of us still don't know exactly what it is. So who better to educate us that 8 year-old genius and Global Science Ambassador Romanieo Golphin, Jr?
Keep reading...
Show less
Kip Moore doesn't usually record songs he didn't write. But once you hear "The Bull," you'll immediately understand why he chose to perform this outside song.
Keep reading...
Show less
Jimmy Kimmel recently spoke out against white supremacy during a late night monologue and upset a lot of people. Our publishing of said monologue created the same effect. Instead of going at his detractors with bared teeth, Kimmel simply read their thoughts out loud on air while blurring out their names, noting where they were right, and where they erred. If there's one thing that can begin to heal our differences it's a rational, calm, conversation.
Keep reading...
Show less