Westerns aren't as popular as they used to be, what with Marvel and "Star Wars" dominating the box office. But you should never think that the genre is unimportant. Fun films about outlaws and frontier justice are both entertaining and help us investigate deeper questions about morality, justice, duty, love, and what it means to be a good person.
---
There are many great westerns and everyone has their own opinions about which is best. I'm not going to tell you which western is best, it's dealer's choice. But there are some westerns every fan must see. This list will give you an overview of the genre's history, breadth of story, the high notes, and where the genre is heading today.
18 Must-See Westerns for Movie Lovers:
1. "El Dorado"
Howard Hawks magnificent story of a ragtag bunch of heroes fighting against greedy ranchers. It's funny, action packed and boasts an all-star western cast.
2. "3:10 to Yuma"
Christian Bale plays a down-on-his-luck rancher tasked with escorting a dangerous outlaw (Russell Crowe) to justice. But when the two are form an unlikely alliance, the men must decide if they can go against their moral codes or die taking a stand.
3. "Once Upon a Time in The West"
There's a fine line between revenge and justice, but sometimes the two find the same end. Sergio Leone's masterpiece is may not only be one of the greatest westerns of all time, but perhaps is one of the greatest films ever made.
4. "Hell or High Water"
When a ruthless bank threatens to foreclose on their mother's land, two brothers (Chris Pine and Ben Foster) decide to rob the bank to pay the loan and end up on the run from the law. This movie was nominated for a couple of Oscars in 2016 and absolutely lives up to the hype.
5. "The Ox Bow Incident"
Henry Fonda plays a drifter who gets pulled into a lynch mob in this classic film that looks at what causes normal men to love violence and skirt justice. Bonus: The trailer is a great example for how much movie marketing has changed in the last 60 years.
6. "The Man who Shot Liberty Valance"
What does true courage and leadership in the face of violence look like? James Stewart plays a mild mannered politician who doesn't have the courage to face a notorious outlaw, while the only man who does (John Wayne) has no interest in getting leading.
7. "Butch Cassidy and the Sundance Kid"
Paul Newman and Robert Redford star as the titular duo, riding in the last great "hurrah!" of the western outlaw that is the spiritual prequel to their Academy awarded Best Picture , "The Sting." It is a fun romp through the west with iconic acting and one of the most memorable explosions in film history: an exploding train car literal feet from the actors.
8. "Shane"
Arguably the best western of all time. "Shane" is the story of a hired gun, a man running from his past and hoping for a quiet future, that gets drawn back into violence to protect a small town from a vile cattle baron. It typifies the men of the Greatest Generation: men who always did their duty, no matter the cost.
Fun Fact: Hugh Jackman's last X-Men movie, "Logan" was loosely based on Shane.
9. "The Magnificent Seven"
The original, of course, in which a group of misfits band together to save a town from a murderous gang and find greater meaning to their dead end pursuits.This iconic western was based off a Japanese samurai film, "The Seven Samurai," and is the basis for "The Three Amigos" and multiple remakes since it's release.
10. "Unforgiven"
Gene Hackman, Clint Eastwood, and Morgan Freeman star in this tale of vigilante justice. What happens when outlaws are heroes of justice and the law is standing in their way?
11. "The Good, The Bad, and The Ugly"
This is final and best movie in the Man With No Name trilogy. Treasure hunting outlaws during the civil war face enemies on all sides in the story or treason, greed, violence, and frontier justice.
12. "The Searchers"
John Wayne plays a bigoted anti-hero returned from the Texas civil war only to find his family murdered or abducted by Comanches. This is a dark, complex look at racism, survival, and revenge in the west.
13. "Dances with Wolves"
A decorated soldier befriends the people he is supposed to fight in this story of love and allegiance. The film takes a hard look at one of the darker periods of American history and the disappearing frontier.
14. "Tombstone"
You didn't have to be an outlaw to be notorious in the wild west. The Earp brothers were unshakable law men who struck fear into the hearts of wanted men across the west. The group moves to Tombstone to settle down and become business men. But trouble always has a way of finding peaceful men.
15. "High Noon"
"The only thing necessary for the triumph of evil is for good men do nothing." Gary Cooper plays a sheriff who takes a stand when everyone behind him decides to run.
16. "The Wild Bunch"
The west had to die, outlaws were tamed with the country they rode. Right before the west was won, an aging outlaw is betrayed during his last job and chases his former friends into Mexico in a hail of bullets.
17. "The Outlaw Josey Wales"
A man bent on revenge joins a confederate troop during the civil war to hunt down the union soldiers who killed his family. This is one of Eastwood's best.
18. "The Assassination of Jesse James by the Coward Robert Ford"
The most artistic film on the list is also the most introspective, investigating how celebrity affects our culture. Obsession, a longing for greatness, and fame hold center stage as Robert Ford grows to despise his one time hero.
Lady Antebellum
Aug. 18, 2017 02:43PM EST
Lady Antebellum's Hillary Scott is having a baby ... or two!
Keep reading...
Show less
Popular
Aug. 18, 2017 08:45AM EST
Miley Cyrus' new album Younger Now promises to bring Miley Cyrus back to country music. In preparation for the album Miley has softened her image and bought a palatial country home in Nashville signaling that she truly desires to return to the music heritage of her youth. The first single off the album is the title track is a love letter written to country fans defending her past and laying out a hope for her future.
Keep reading...
Show less
Taylor Swift's Web site is blank. Her Twitter profile exists, but there's no profile picture-- same goes for Facebook. Don't get me started on her Instagram-- she deleted all of the photos.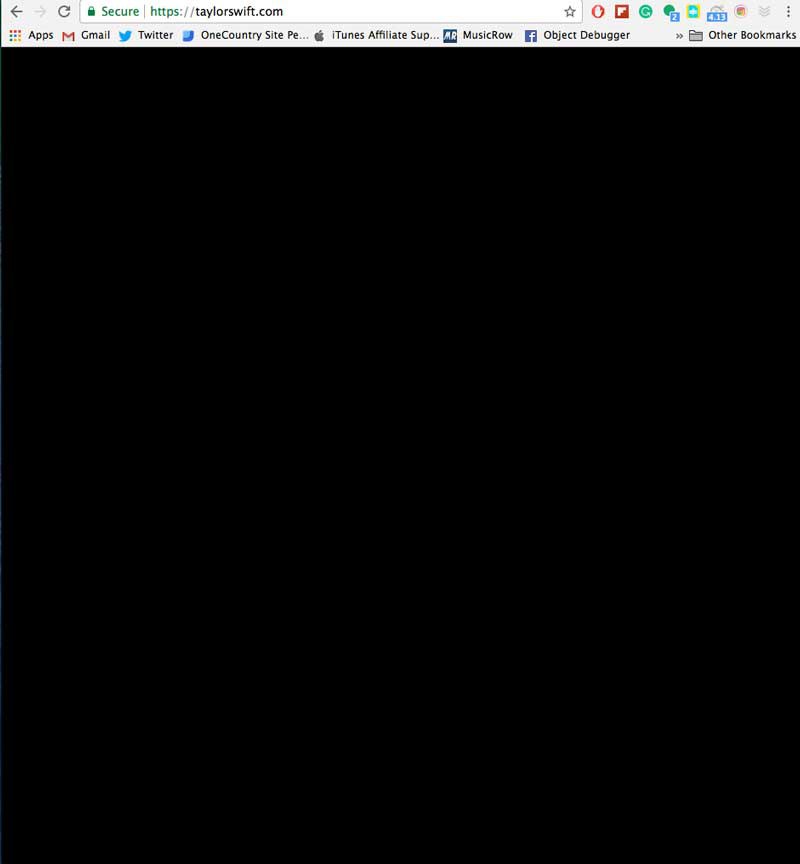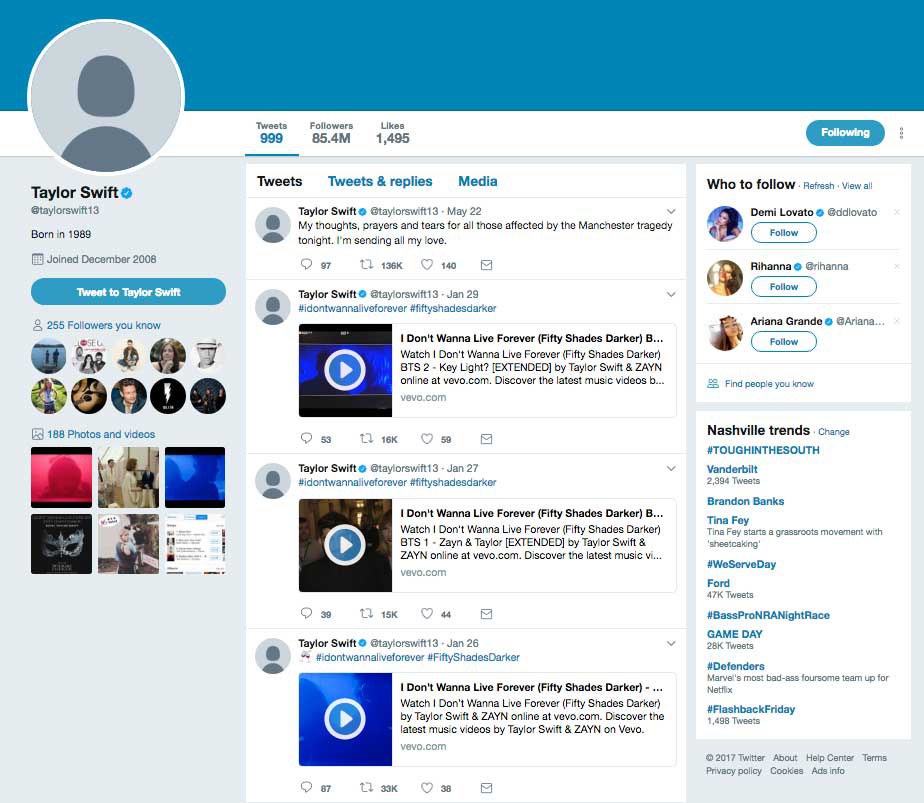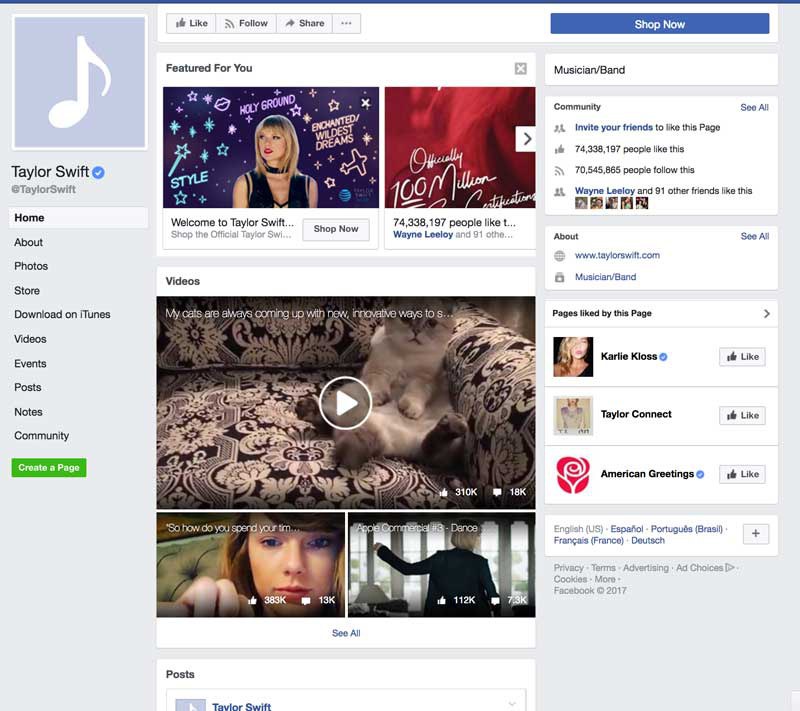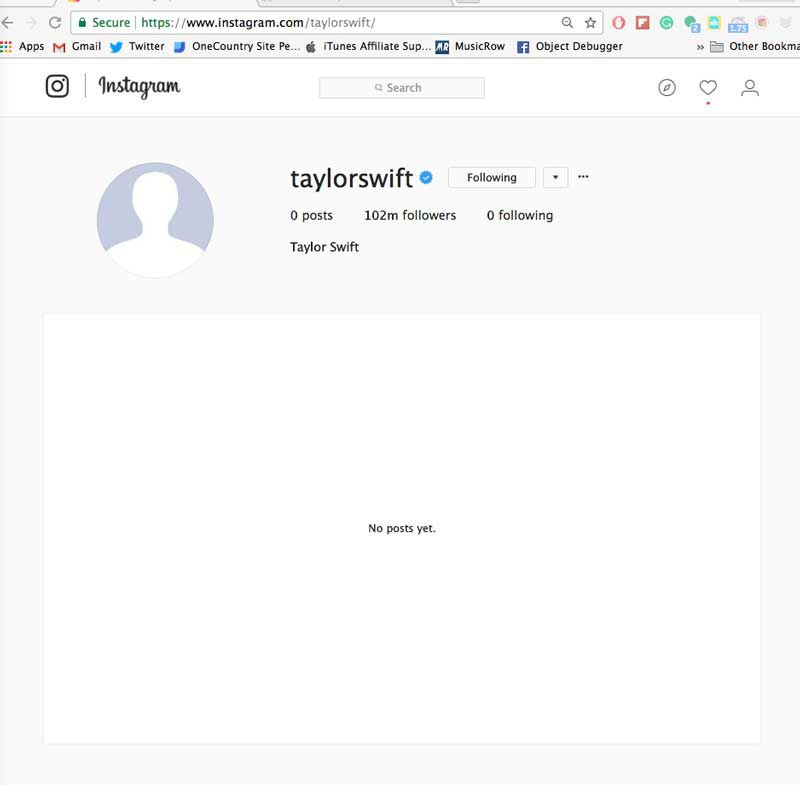 Just days ago Swift won her sexual assault case against a Denver DJ who groped her before a 2013 concert. Before that, we saw Swift in February during her only scheduled concert of the year. There was a brief commotion over the possibility of her being carried out of her New York City apartment in a suitcase and she supposedly has a new boyfriend, but really-- Swift has been totally off-the-grid.
Swift hasn't tweeted since May and her few Instagram posts this year were about new music from friends.
But, now a total blackout of her online existence? It can only mean one thing-- she's about to shut it down, only to bring it back to life like never before.
Forget everything you thought you knew about Swift because this is going to be epic.
Popular
Aug. 17, 2017 09:05AM EST
Kelsea Ballerini knows what's up. Not only has she become a massive country music star in the last couple of years, she's also becoming known for her down-to-earth advice and very approachable vibe. A couple of years ago, people started comparing her legs to Carrie Underwood's-- a compliment for the ages, sure. But, when asked her workout routine she just said she walks her dog and tries to go easy on the chicken tenders every now and then. (Results definitely not guaranteed.)
When it comes to beauty advice, Kelsea's not trying to talk about some product you can only buy in France under a bridge from someone who once walked past Gwyneth Paltrow-- she's throwing out real helpful advice.
Kelsea told the Grand Ole Opry that it's all about washing your face-- simple, yet effective.
But, really, she started slinging knowledge when she shared some advice from her mom, "My mom told me when I was younger... you either play up the eyes or the lip, but you can't do both because you'd look crazy."
This is the type of advice that should hang on the walls of middle schools everywhere-- kind of like the "hang in there" cat poster.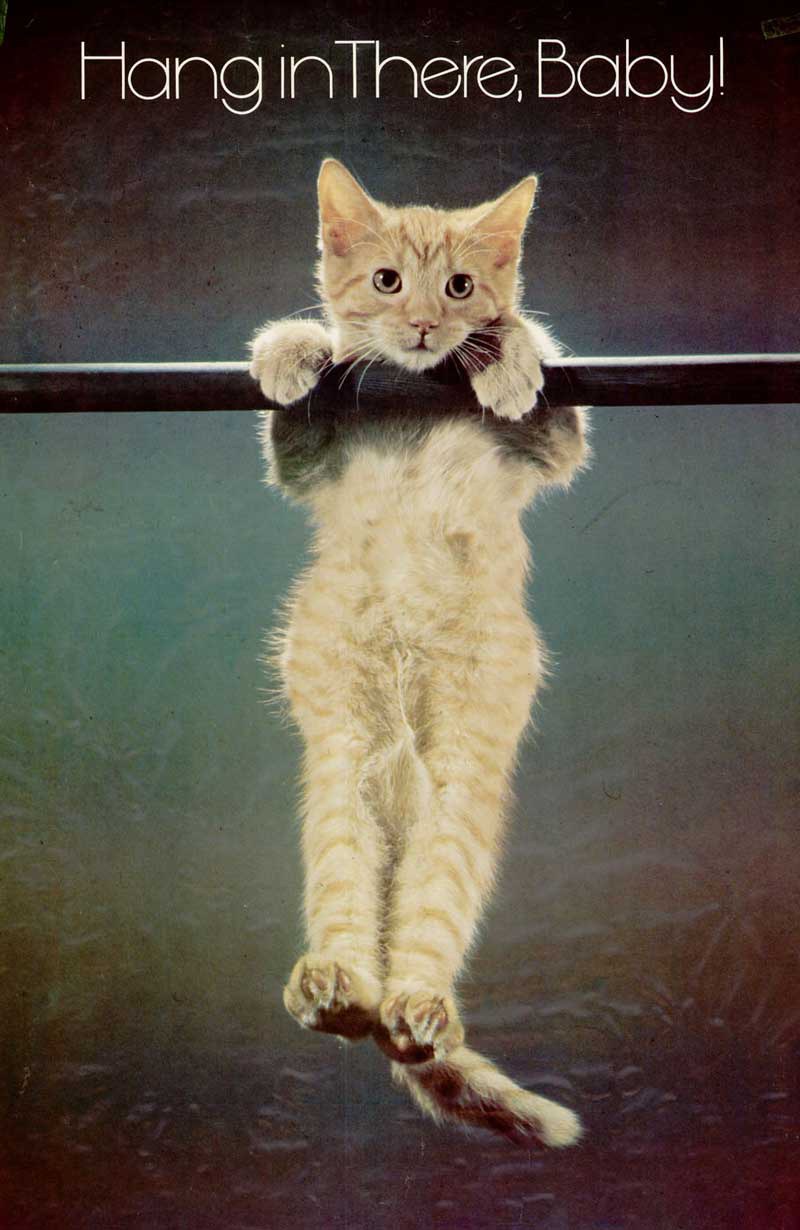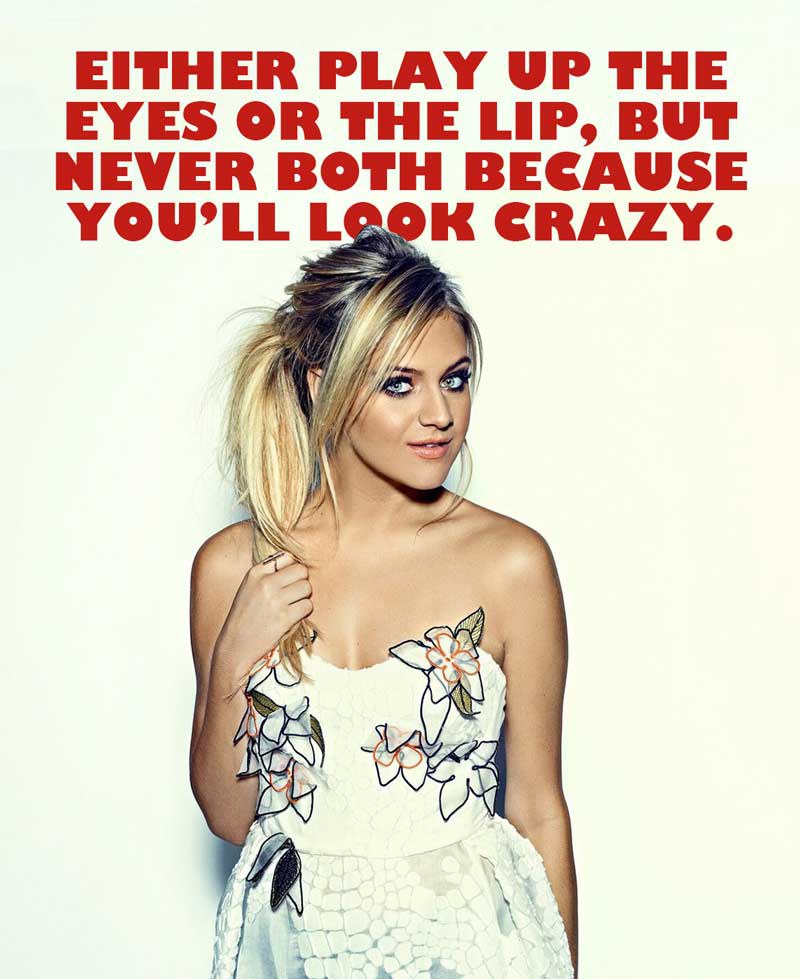 Jason Aldean
Aug. 18, 2017 10:45AM EST
Keep reading...
Show less
Everywhere you turn these days there is excitement for the solar eclipse. I can't blame people either. A total solar eclipse is a once-in-a-generation event so unique that people take vacations and travel oversees to catch them. But with all the buzz about the solar event, a lot of us still don't know exactly what it is. So who better to educate us that 8 year-old genius and Global Science Ambassador Romanieo Golphin, Jr?
Keep reading...
Show less
Kip Moore doesn't usually record songs he didn't write. But once you hear "The Bull," you'll immediately understand why he chose to perform this outside song.
Keep reading...
Show less
Jimmy Kimmel recently spoke out against white supremacy during a late night monologue and upset a lot of people. Our publishing of said monologue created the same effect. Instead of going at his detractors with bared teeth, Kimmel simply read their thoughts out loud on air while blurring out their names, noting where they were right, and where they erred. If there's one thing that can begin to heal our differences it's a rational, calm, conversation.
Keep reading...
Show less