2016 has had its intoxicating highs and its devastating lows. After taking stock of the year's finest songs and albums, it is that time to look forward to what bubbling-under artists could and should break out in a big way in the new year. Ranging from songwriters transitioning to full-time artists and youthful new harmony trio, One Country takes a look at 10 singers, songwriters and musicians who will be 2017's superstar class.
1. Midland
Their self-titled debut EP is a polished, contemporary record with a hearty traditional tilt. Their debut single "Drinkin' Problem" tips its hat to '90s Mark Chestnut and George Strait but offers up a very distinctive sound and perspective. Mark Wystrach (lead vocals, guitar), Cameron Duddy (bass,vocals) and Jess Carson (lead guitar, vocals) also make sure to keep their harmonies sweet and tight. "Burn Out" and "This Old Heart" are must-listens, too. An all-male trio is particularly rare these days, and with Big Machine in their corner, their future is lookin' good.
2. Carly Pearce
Ever since Pearce dropped "Every Little Thing" last month, her star has been growing brighter and brighter. The rather musically progressive piano track is built upon a haunting melody and smokey lead vocal and anchored with piano, lonesome guitar and even gritty dobro. The song leads her forthcoming, long-awaited, new EP, and by all accounts, 2017 will be her year.
3. Candi Carpenter
Carpenter is lighting up country music with her smoldering new track "Burn the Bed." After she discovers a cheating lover, she resolves to get revenge in the best way possible. Instead of trashing his little ole four-wheel drive like Carrie Underwood, she sets on setting the bed on fire (and not just the sheets), much like Miranda Lambert did in her hit single "Kerosene." But "Burn the Bed" is a bit more moody and less rock-influenced. Carpenter's vocal, too, is soaked with bitterness and conjures with a distinct atmospheric quality. If this is any indication of what is it come, sign us up for a full-length album, STAT!
4. Runaway June
The trio recently netted their first-ever Top 30 hit. "Lipstick" marks an important time in country music--they become the first all-female trio in 10 years to shatter the Top 30 threshold since SheDaisy. The song is empowering (and not just for women) and samples their forthcoming debut project, which is shaping up to be one of 2017's most anticipated releases.
5. Erik Dylan
With a bevy of major label cuts under his belt, including Kip Moore's "Comeback Kid," this gravelly voiced singer is poised to have a breakout moment of his very own. Off the heat of his acclaimed debut album, The Heart of a Flatland Boy, he has proved he can stand with the big dogs. Songs like "Fishing Alone," "Map Dot Town" and "Pink Flamingoes" are among the year's best cuts and indicate Dylan has even more up his sleeve. And we absolutely can not wait to see what he does next.
6. Dustin Hensley
Hensley is one of the few genre-benders of the bunch. He mixes pop and EDM with down-home country songwriting; on paper, it might not work, but execution is everything. He might not be everyone's cup of tea, but he will certainly turn some heads in the new year. His new single "Nobody but You" frames his forward-thinking around glossy R&B and neon lights.
7. Ryan Hurd
With a string of on-off singles this year, Hurd has proved his streaming power, as well as his musical range. "We Do Us" is a pop-leaning anthem, while "Love in a Bar" is more intimate. After co-writing the No. 1 hit "Lonely Tonight" (Blake Shelton and Ashley Monroe), he has made the transition to full-blown artist rather effortlessly. He is expected to drop his debut album in the new year.
8. Temecula Road
The young up-and-coming trio have mastered the art of covers, including their most recent 2016 mash-up which features major hits from a wide range of mainstream artists. The video, not surprising, has netted well over three million views on Facebook. That benchmark alone is a testament to their talents; their is an audience ready and willing to support them.

9. Magnolia Wind
Kristen Brassel and Chris Butler's debut EP, Take One, overflows with smooth melodies, gripping harmonies and gutsy songwriting. Standouts such as "Ghosts" and "Heal Our Souls" are the kind of impactful recordings which cement careers and will undoubtedly take them to the next level. 2017, you better get ready.
10. Caitlyn Smith
The songwriter behind such hits as Megan Trainor and John Legend's "Like I'm Going to Lose You" and Cassadee Pope's "Wasting All These Tears" is aiming to takeover 2017 with her long-awaited new album. Earlier this year, she sampled the project with an EP titled Starfire which includes soul-inspired numbers like "Before You Called Me Baby" and the powerful "This Town is Killing Me."
11. Jillian Jacqueline
Coming off her self-titled debut EP is no easy task, but Jacqueline is more than up to the task. Armed with "Prime" and "Kids These Days," she frames her diversity with confidence and is poised to take 2017 by storm.
Lady Antebellum
Aug. 18, 2017 02:43PM EST
Lady Antebellum's Hillary Scott is having a baby ... or two!
Keep reading...
Show less
Popular
Aug. 18, 2017 08:45AM EST
Miley Cyrus' new album Younger Now promises to bring Miley Cyrus back to country music. In preparation for the album Miley has softened her image and bought a palatial country home in Nashville signaling that she truly desires to return to the music heritage of her youth. The first single off the album is the title track is a love letter written to country fans defending her past and laying out a hope for her future.
Keep reading...
Show less
Taylor Swift's Web site is blank. Her Twitter profile exists, but there's no profile picture-- same goes for Facebook. Don't get me started on her Instagram-- she deleted all of the photos.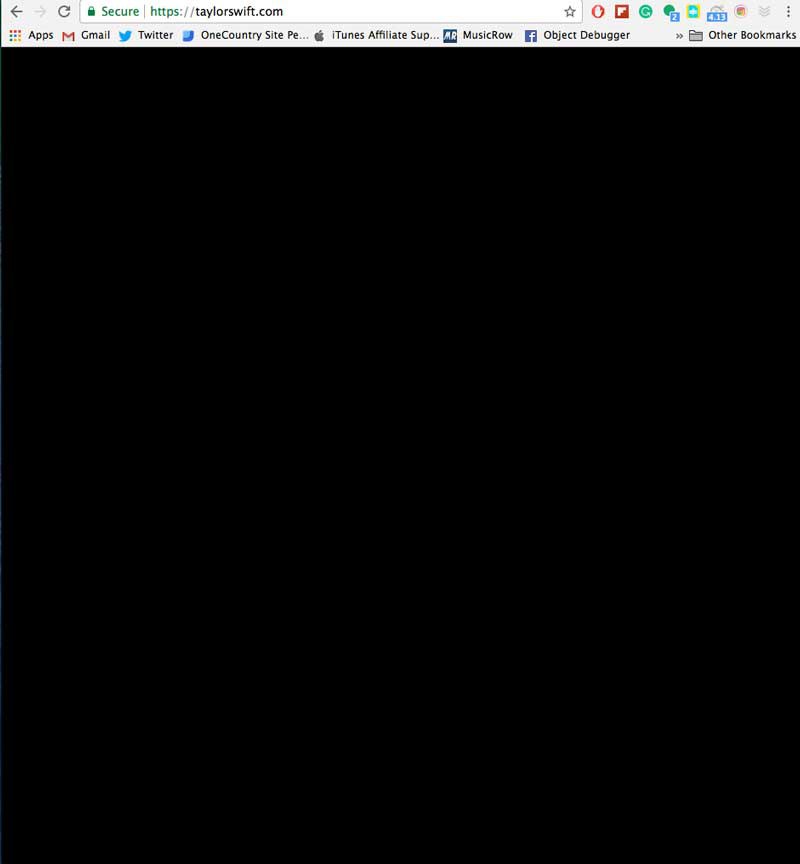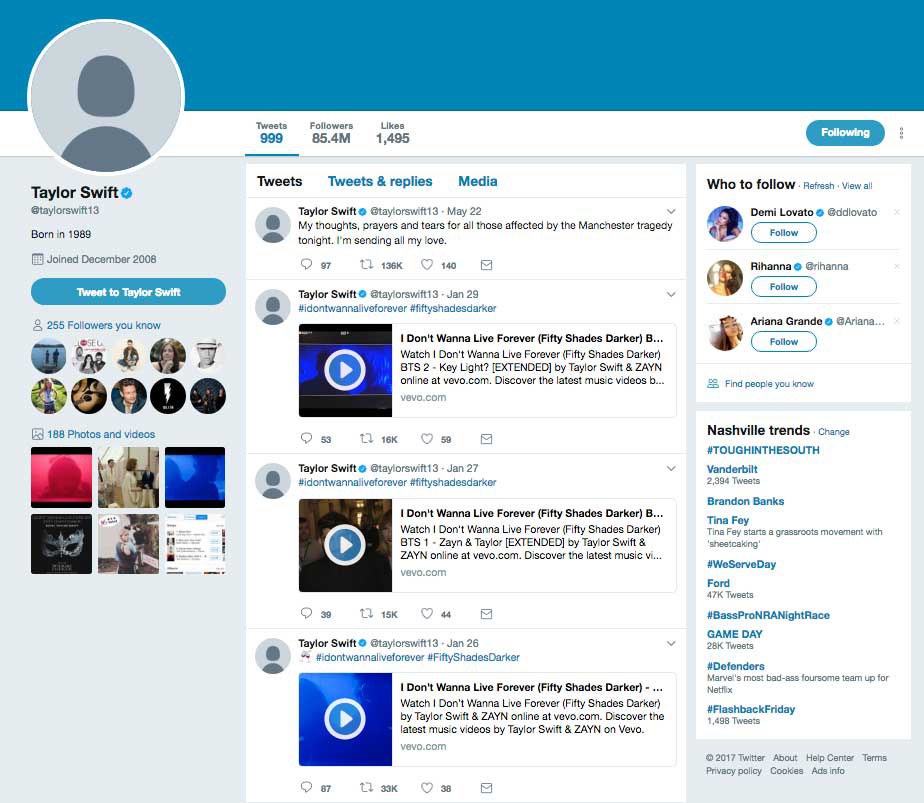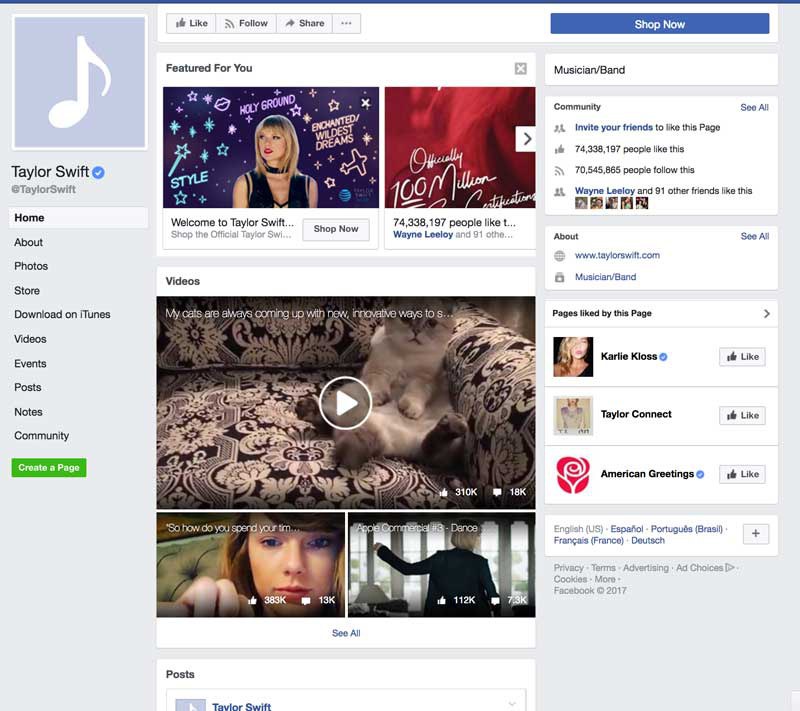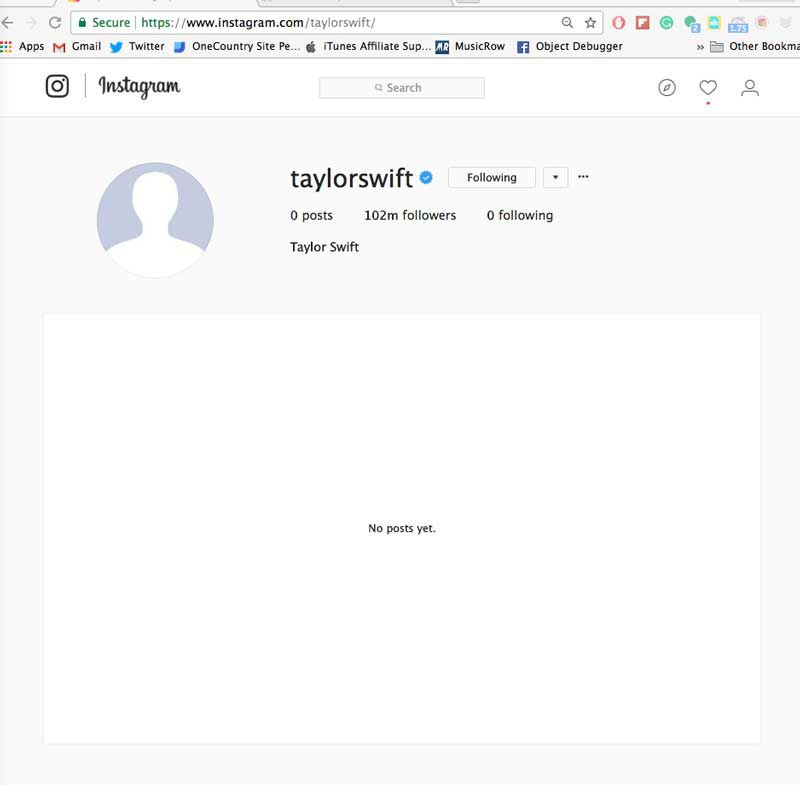 Just days ago Swift won her sexual assault case against a Denver DJ who groped her before a 2013 concert. Before that, we saw Swift in February during her only scheduled concert of the year. There was a brief commotion over the possibility of her being carried out of her New York City apartment in a suitcase and she supposedly has a new boyfriend, but really-- Swift has been totally off-the-grid.
Swift hasn't tweeted since May and her few Instagram posts this year were about new music from friends.
But, now a total blackout of her online existence? It can only mean one thing-- she's about to shut it down, only to bring it back to life like never before.
Forget everything you thought you knew about Swift because this is going to be epic.
Popular
Aug. 17, 2017 09:05AM EST
Kelsea Ballerini knows what's up. Not only has she become a massive country music star in the last couple of years, she's also becoming known for her down-to-earth advice and very approachable vibe. A couple of years ago, people started comparing her legs to Carrie Underwood's-- a compliment for the ages, sure. But, when asked her workout routine she just said she walks her dog and tries to go easy on the chicken tenders every now and then. (Results definitely not guaranteed.)
When it comes to beauty advice, Kelsea's not trying to talk about some product you can only buy in France under a bridge from someone who once walked past Gwyneth Paltrow-- she's throwing out real helpful advice.
Kelsea told the Grand Ole Opry that it's all about washing your face-- simple, yet effective.
But, really, she started slinging knowledge when she shared some advice from her mom, "My mom told me when I was younger... you either play up the eyes or the lip, but you can't do both because you'd look crazy."
This is the type of advice that should hang on the walls of middle schools everywhere-- kind of like the "hang in there" cat poster.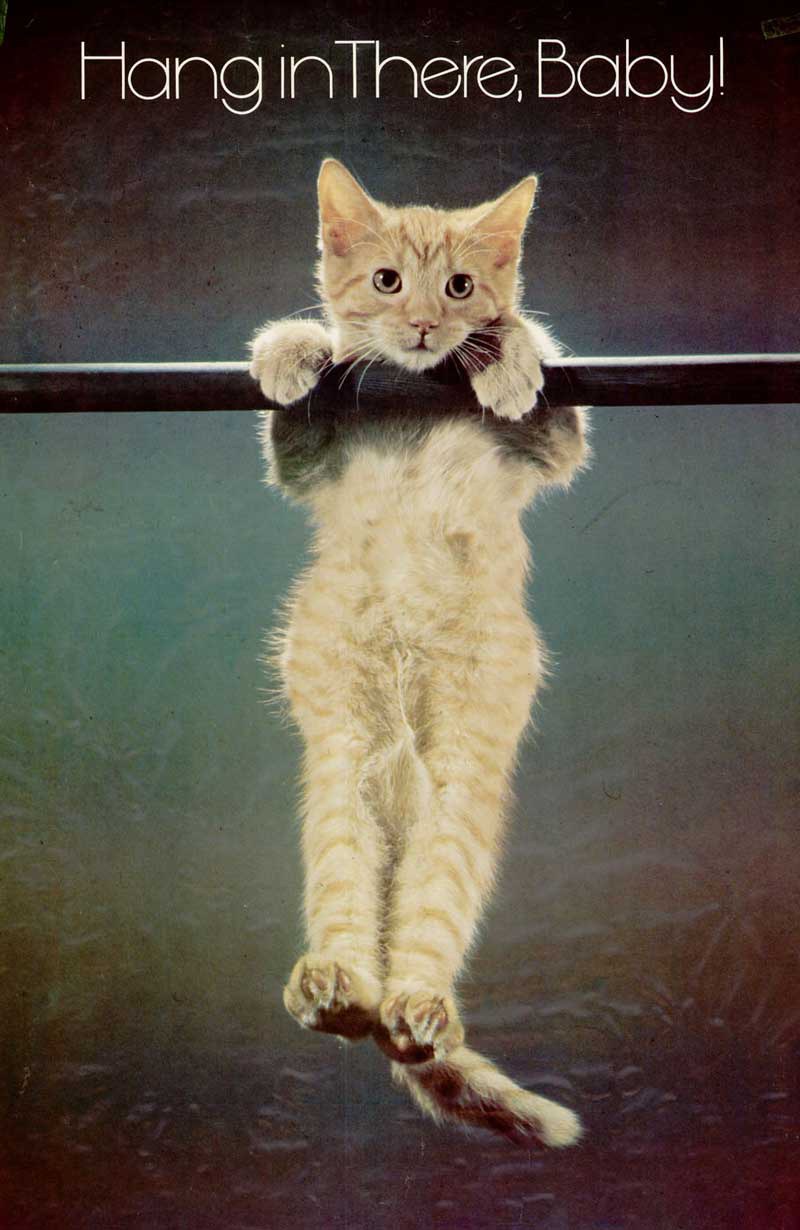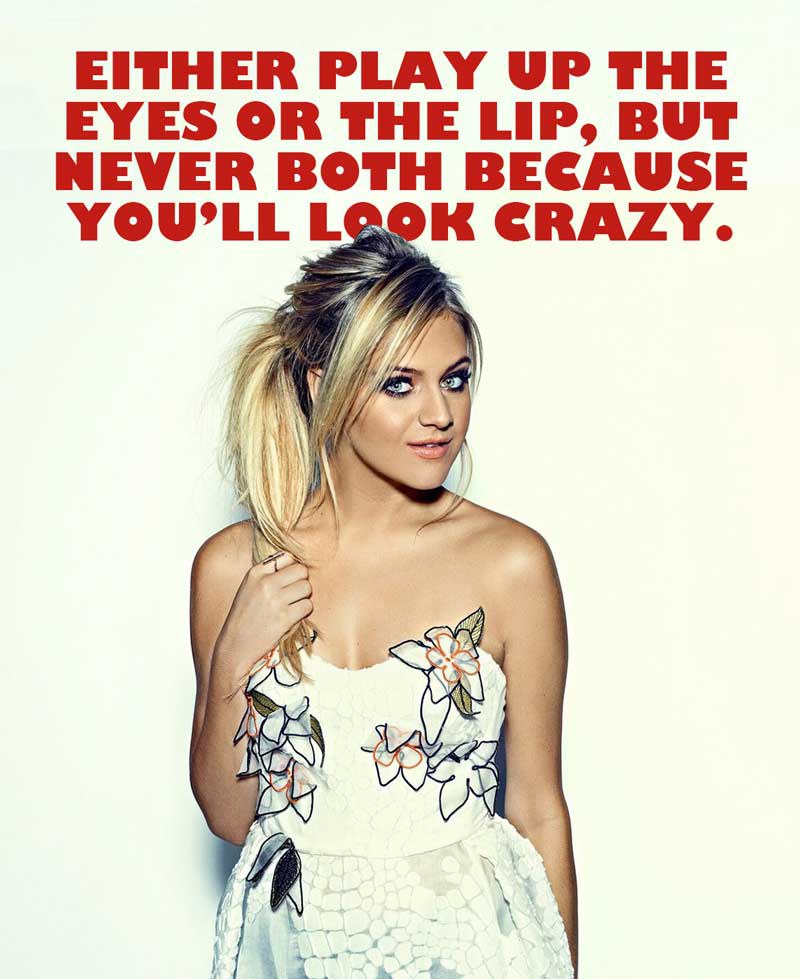 Jason Aldean
Aug. 18, 2017 10:45AM EST
Keep reading...
Show less
Everywhere you turn these days there is excitement for the solar eclipse. I can't blame people either. A total solar eclipse is a once-in-a-generation event so unique that people take vacations and travel oversees to catch them. But with all the buzz about the solar event, a lot of us still don't know exactly what it is. So who better to educate us that 8 year-old genius and Global Science Ambassador Romanieo Golphin, Jr?
Keep reading...
Show less
Kip Moore doesn't usually record songs he didn't write. But once you hear "The Bull," you'll immediately understand why he chose to perform this outside song.
Keep reading...
Show less
Jimmy Kimmel recently spoke out against white supremacy during a late night monologue and upset a lot of people. Our publishing of said monologue created the same effect. Instead of going at his detractors with bared teeth, Kimmel simply read their thoughts out loud on air while blurring out their names, noting where they were right, and where they erred. If there's one thing that can begin to heal our differences it's a rational, calm, conversation.
Keep reading...
Show less