"Bachelor" Contestant Was the Star of a Cole Swindell Video, So Why is ABC Casting Aspiring Actresses on Its Show?
True to form, the current season (maybe it's 79th?) of "The Bachelor" is shaping up to be a real barn burner. So far, contestants have dressed up like brides to take photos with Bachelor Nick Viall, slapped him and been sent home for sleeping with him after a mutual friend's wedding.
And like every season, there are fan favorites on the show. Currently, everyone is loving Danielle Maltby, or Danielle M. on the show. She's listed as a "neonatal nurse" from Nashville, Tennessee.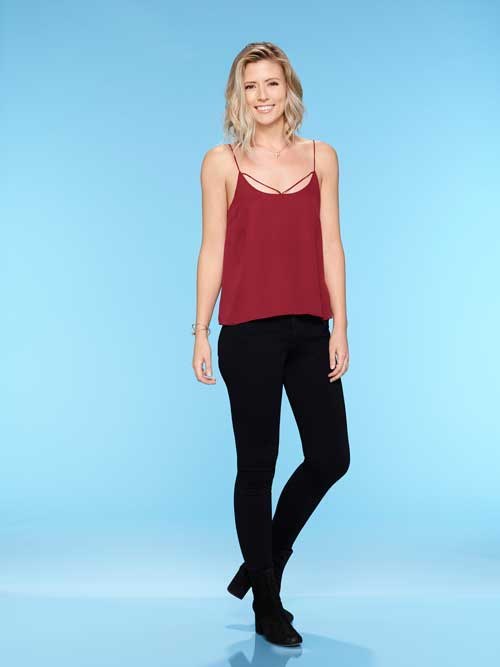 ABC/Disney Press
So, why is a neonatal nurse moonlighting as a country music video star on the side? Is she an actress?
During the most recent episode of "The Bachelor," Danielle M. received a rose after a coveted one-on-one date with Nick. Which is exactly where an aspiring actress would hope to be-- alone in front of the camera.
Danielle's Instagram account confirms it was her in the video. She thanks AMax Talent for letting her be a part of the video. AMax lists Danielle under "models." Danielle's Instagram bio also has info on booking information. Kind of weird for a nurse?
So, the real question-- ABC, why are you casting aspiring actresses and models on a show about finding true love?
Come on.
Apr. 21, 2017 02:58PM EST
Over the last couple of years, Chris Pratt and Anna Faris have really emerged as one of those normal Hollywood couples. You know, people you might want to hang out with sometime.
Mainly, it seems like they do normal things and have some real perspective on this whole celebrity lifestyle, but also they do weird things like eat a ton of snacks on camera and live tweet an entire day of mundane events leading up to a big event.
Recently, Anna Faris live-tweeted an entire day of activities. Chris Pratt was prepping for the "Guardians of the Galaxy Vol. 2" premiere and Anna was just eating raisin toast and getting her hair done. It was amazing.
We picked out a few of our favorite tweets from the day and compiled them all into a video for easing scrolling.
Apr. 21, 2017 03:26PM EST
Robert Irwin, son of "The Crocodile Hunter" Steve Irwin, is a chip off the ole block. Not only does he look like his father (check out the clip) but he has his father's enthusiasm of animals and educating people about them. Robert brought a variety of unusual animals (legless lizards?) to "The Tonight Show" and Jimmy's reactions were priceless.
I think that clip provided every reaction gif you will ever need.
1. "Hey, how r u?"
"beaut bonza" is the most Aussie phrase in the world
2. "How was ur date?"
3. Do not want

4. Afraid yet curious

5. Mild shock/ when you aren't really paying attention anymore

6. Standard cute
7. When something unwanted enters your life
8. "C'mon man."

9. Deeply concerned/nervous/unsure
10. An apt question for anyone who rides public transit
11. When you're getting unwanted attention
12. Hyping up your boy to go talk to the pretty girl at the bar
13. When you aren't paying attention and something serious happens
14. "Whatever, it's not that cool."
15. When they respond positively to that risky text
Apr. 21, 2017 10:53AM EST
The Nashville Predators swept the Chicago Blackhawks in four games to move on to the second round of the Stanley Cup Playoffs and Dierks Bentley thinks it's because he wore an awful hat during the game.
The hat clearly didn't hurt and neither did Luke Bryan's performance of the National Anthem beforehand. It was even Carrie Underwood approved.
Check out who Luke shakes hands with as he leaves the ice-- Vince Gill! Only in Nashville.
Apr. 19, 2017 08:47PM EST
During this episode of the podcast, our first, we take a deep dive into music-- particularly, songs we've always loved, the songs we first loved and songs that never grow old. And yes, things turn colorful when Drew and I discovered are common interest in Garth Brooks' No. 1 hit, "That Summer."
Country Air Podcast // Songs We've Always Loved

Get One Country in your inbox