Americans love food, there's no denying that.
I mean, if you think about it, every sporting event, party, date and trip you go on is defined by one thing -- the food. And, if we're being really honest, it's often defined by fast food.
So, with that in mind, I decided to do a little research and figure out what fast food restaurants each state lays claim to. You may find some of these interesting.
Most Iconic Food Chain in Each State:
Alabama // Checkers
Checkers opened in Mobile, Alabama back in 1986. Now, there are over 800 locations across America.
Alaska // Great Alaska Pizza Company

Though the Great Alaska Pizza Company is only in, you guessed it, Alaska, there are 15 locations scattered across the state.
Arizona // Cold Stone Creamery
Cold Stone Creamery first opened in Tempe, Arizona in 1988. Today, there are around 1,000 locations nationwide.
Arkansas // Slim Chickens

Slim Chickens opened in Fayetteville, Arkansas in 2003. Since then, the owners have opened 30 locations across the Southern United States.
California // In-N-Out Burger

In-N-Out Burger opened in Baldwin Park, California in 1948. There are now 300 locations along the West coast.
Colorado // Chipotle
In July of 1993, the first Chipotle opened in Colorado. Today, there are around 3,000 locations across the United States.
Connecticut // Subway

In 1965, the first Subway opened in Bridgeport, Connecticut. In the first 10 years, only 16 restaurants existed, but today there are more than 44,000 locations worldwide.
Delaware // Wings to Go

Wings to Go first opened in 1985. Now, there are more than 80 stores across the United States.
Florida // Burger King

Burger King was founded in Jacksonville, Florida in 1954. The famous chain was actually first owned by the brothers who founded McDonalds, but was bought out and renamed in 1961.
Georgia // Chick-fil-A

Chick-fil-A was first opened in the early 1946. Now, it has more than 2,000 restaurants, mainly in the southeastern United States.
Hawaii // Zippy's

Though you probably haven't heard of this restaurant, it is quite popular on the Hawaiian Islands. Founded in 1966, there are now 24 locations throughout the islands.
Idaho // Moxie Java

Moxie Java first opened in Boise, Idaho in 1988. Since then, the restaurant has opened 26 locations over six states.
Illinois // McDonald's

This one needs no introduction.
Though McDonald's was actually first opened in California, the chain was made successful by Ray Kroc, who opened the McDonald's System Inc. in Illinois in 1955.
Indiana // Steak 'n Shake

Steak 'n Shake was actually founded in Illinois, but the headquarters reside in Indianapolis, Indiana. Today, there are 544 locations across America.
Iowa // Maid-Rite
Maid-Rite was first opened in 1926. Now, there are 70 locations spread across six states.
Kansas // Pizza Hut

Pizza Hut was founded in 1958 by two Wichita State University students, brothers Dan and Frank Carney, as a single location in Wichita, Kansas. Now, the company has over 15,000 locations worldwide.
Kentucky // KFC
Colonel Harland Sanders opened the first KFC in 1930. Now, there are 19,952 locations worldwide.
Louisiana // Popeyes

Popeyes was founded in 1972 in New Orleans, Louisiana. Today, there are over 2,000 locations across the United States.
Maine // Gifford's

Gifford's Famous Ice Cream dates back all the way to the 1800s. It was moved to Maine in 1973 after Randall and Audrey Gifford inherited the business. Today, the company sells around 1.7 million gallons of fresh milk and cream ice cream every year.
Maryland // Jerry's Subs and Pizza

In 1954, Jerry's Subs and Pizza first opened near Washington D.C. Now, they have over 100 locations around the United States.
Massachusetts // Dunkin' Donuts

Dunkin' Donuts first opened in 1950 in Quincy, Massachusetts. Today, they have more than 12,000 restaurants in 36 countries.
Michigan // Domino's

Domino's was first opened in 1960, in Ypsilanti, Michigan. Currently, there are more than 12,000 locations worldwide.
Minnesota // Dairy Queen

Dairy Queen was founded in 1938. Since then, they have opened 6,000 DQ location nationwide.
Missouri // Panera Bread

Panera Bread, which was originally Saint Louis Bread Company, was founded by Ken Rosenthal in 1987. After being purchased by Au Bon Pain Co. in 1993, the restaurant expanded and opened 2,000 locations nationwide.
Montana // Ted's Montana Grill

The first Ted's Montana Grill location opened in Columbus, Ohio in 2002. Today it has 44 restaurants in 16 states.
Nebraska // Godfather's Pizza

Godfather's Pizza was founded in Omaha, Nebraska in 1973. Now, there are over 630 locations across America.
Nevada // PT's Pub

PT's Pub, while not the traditional fast food joint, is the perfect place to dine, drink and play a little pool. Since its open, the restaurant has expanded to nearly 25 locations across the Las Vegas area.
New Hampshire // Moe's Italian Sandwiches
Moe's Italian Sandwiches was founded in 1959. All of the locations remain in their home state of New Hampshire.
New Jersey // Blimpie
Blimpie first opened in 1954 in Hoboken, New Jersey. Today, there are over 1,500 locations across in the United States.
New Mexico // Blake's Lotaburger

Blake's Lotaburger was first opened in 1952 in Albuquerque, New Mexico. Blake's has 78 locations, with 73 being in New Mexico, three in Texas and two in Arizona
New York // Sbarro

Sbarro was opened by the Sbarro family back in 1956. It quickly became the signature New York slice. Today, there are over 1,000 locations worldwide.
North Carolina // Bojangles

Bojangles opened in Charlotte, North Caroline in 1977. Currently, most of the locations remain in North Carolina and surrounding states.
North Dakota // Space Aliens Grill and Bar

Space Aliens Grill and Bar opened back in 1997. Today, there are still only four locations, two in North Dakota and two in Minnesota.
Ohio // Wendy's

Wendy's first opened in Columbus, Ohio in 1969. Today, there are 6,000 restaurants throughout the United States.
Oklahoma // Sonic Drive-In
The first Sonic Drive-In opened in 1953. Today, there are 3,557 restaurants in 45 U.S. states.
Oregon // Papa Murphy's

Papa Murphy's began in 1995 as the merger of two take-and-bake pizza companies -- Papa Aldo's Pizza and Murphy's Pizza. Today, there are more than 1,300 restaurants in the United States and Canada.
Pennsylvania // Auntie Anne's

Anne Beiler started Auntie Anne's at a Pennsylvania farmer's market in 1988. A year later, she had her own store and, since then, has opened over 1,000 locations across the United States.
Rhode Island // Del's Frozen Lemonade

Del's was founded by Angelo DeLucia in 1948. Del's now has 20 stands in Rhode Island and sells product to vendors across the United States.
South Carolina // Denny's

Denny's started out as a donut stand called Danny's in 1953. Eventually, the establishment change its name and expanded its menu, and now, there are over 1,700 locations nationwide.
South Dakota // The Millstone

Okay, this isn't really a fast food chain, but it is special to the residents of South Dakota. Established in 1981, there are only three Millstone locations and they still remain family-owned.
Tennessee // Krystal

Krystal first opened in 1932 in Chattanooga, Tennessee. Today, there are around 350 locations, all located in the South.
Texas // Whataburger

Whataburger first opened in Corpus Christi, Texas in 1950. Now, there are nearly 800 locations nationwide.
Utah // Arctic Circle

This beloved ice cream stop started in 1924. Today, there are 39 locations in Utah and 28 locations in other states.
Vermont // Ben & Jerry's
Ben & Jerry's was founded in 1978. Today, there are over 600 locations nationwide, and they sell product to vendors across the United States.
Virginia // Five Guys

Founded in 1986, Five Guys now has over 1,000 restaurants across the United States.
Washington // Starbucks

Starbucks was founded in Seattle, Washington in 1971. Today, it operates 23,768 locations worldwide,
West Virginia // Gino's Pizza and Spaghetti
Founded in 1961, Gino's Pizza and Spaghetti now has 40 locations, mostly in West Virginia.
Wisconsin // Culver's

Culver's first opened in 1981 in Sauk City, Wisconsin. Now, the chain had 585 restaurants across the United States.
Wyoming // Taco John's

Taco John's, which started in 1968, has 400 locations in 27 states throughout the United States.
Lady Antebellum
Aug. 18, 2017 02:43PM EST
Lady Antebellum's Hillary Scott is having a baby ... or two!
Keep reading...
Show less
Popular
Aug. 18, 2017 08:45AM EST
Miley Cyrus' new album Younger Now promises to bring Miley Cyrus back to country music. In preparation for the album Miley has softened her image and bought a palatial country home in Nashville signaling that she truly desires to return to the music heritage of her youth. The first single off the album is the title track is a love letter written to country fans defending her past and laying out a hope for her future.
Keep reading...
Show less
Taylor Swift's Web site is blank. Her Twitter profile exists, but there's no profile picture-- same goes for Facebook. Don't get me started on her Instagram-- she deleted all of the photos.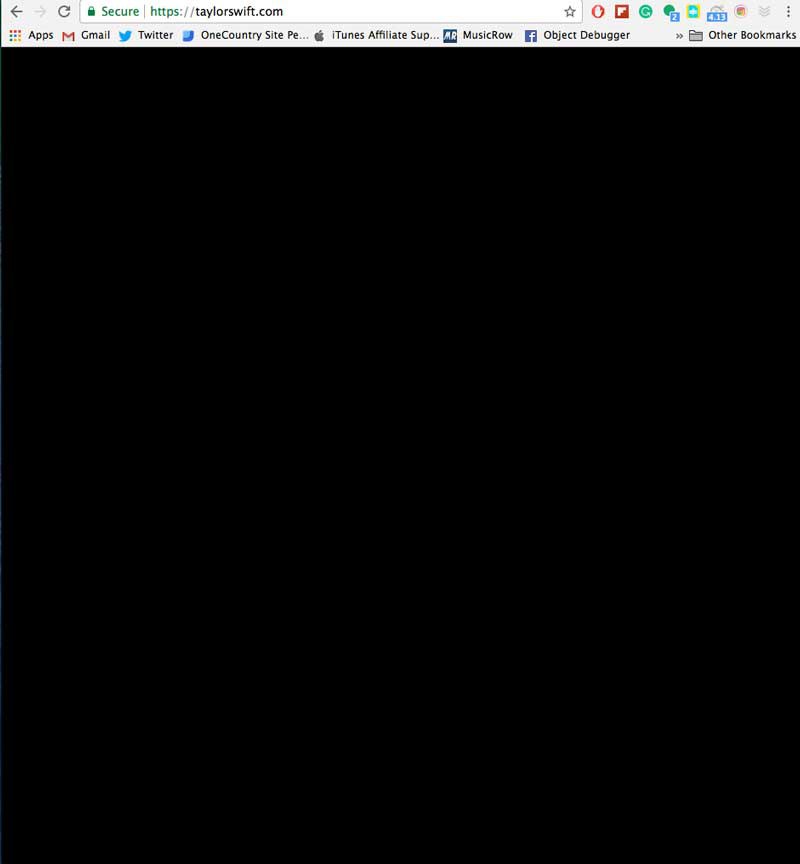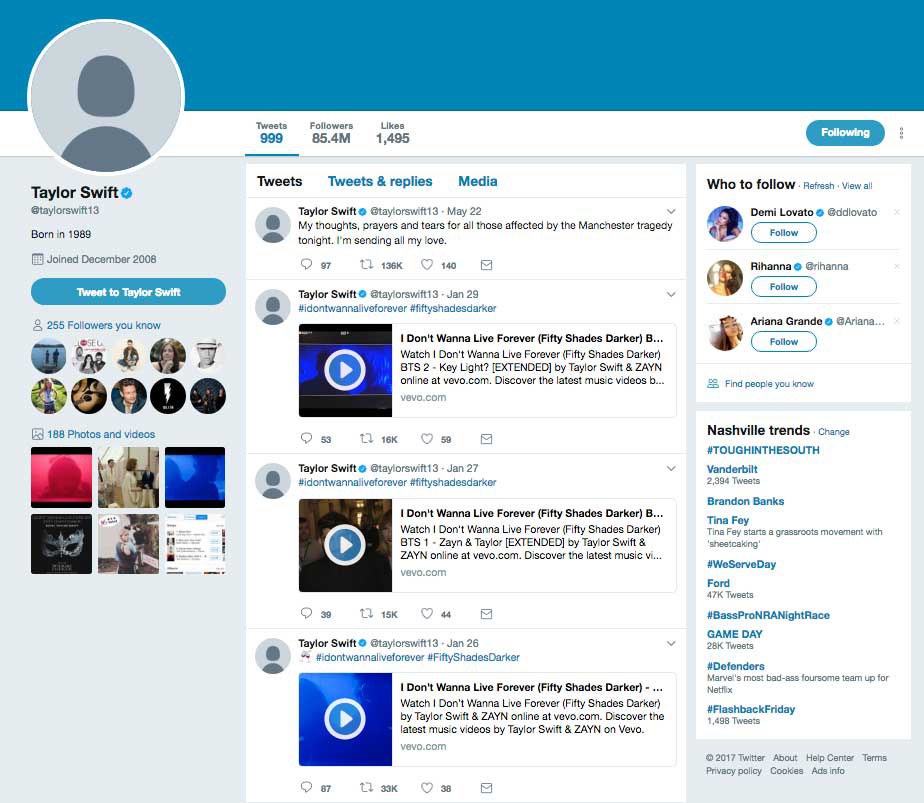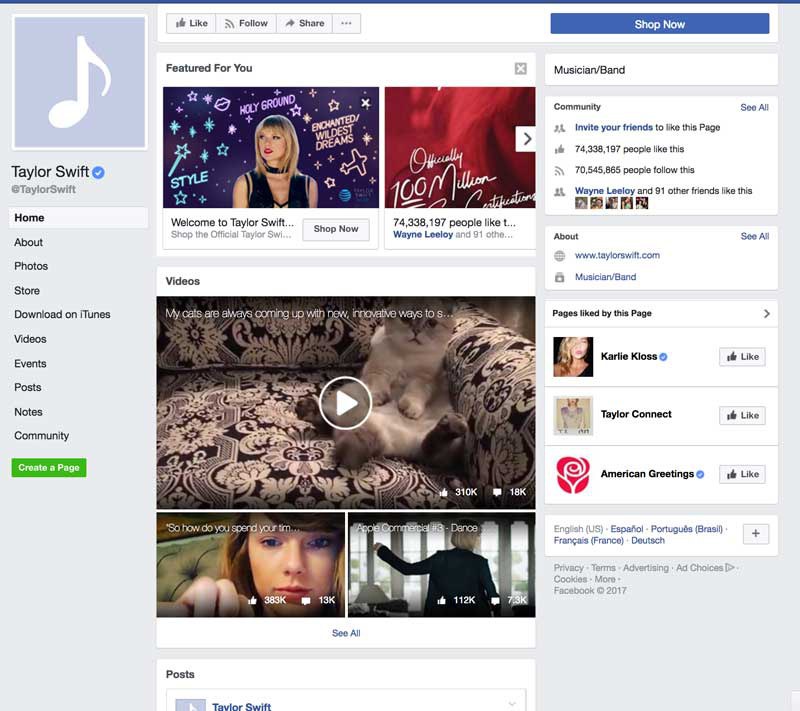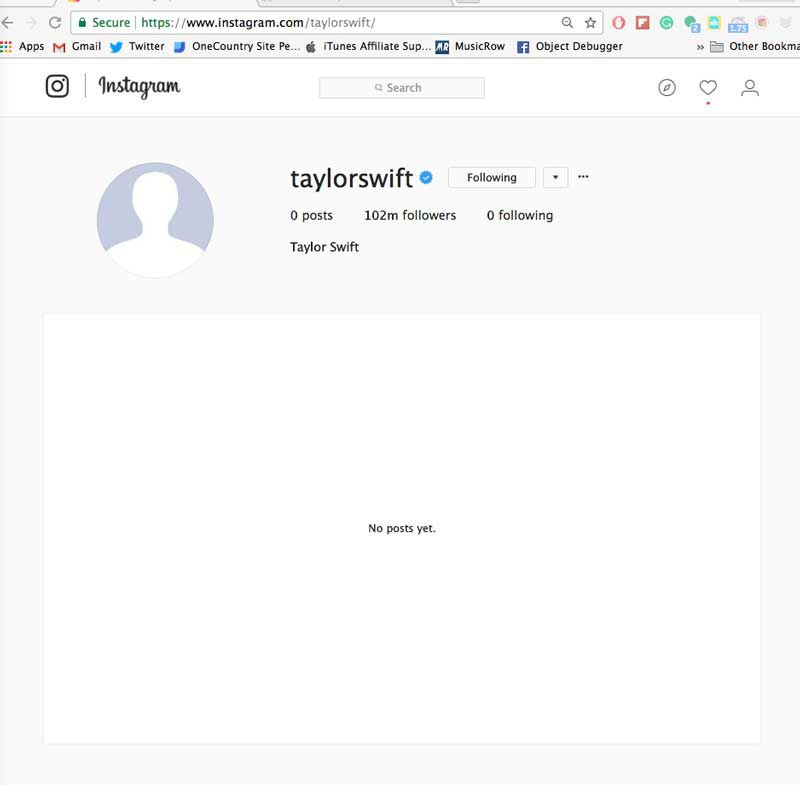 Just days ago Swift won her sexual assault case against a Denver DJ who groped her before a 2013 concert. Before that, we saw Swift in February during her only scheduled concert of the year. There was a brief commotion over the possibility of her being carried out of her New York City apartment in a suitcase and she supposedly has a new boyfriend, but really-- Swift has been totally off-the-grid.
Swift hasn't tweeted since May and her few Instagram posts this year were about new music from friends.
But, now a total blackout of her online existence? It can only mean one thing-- she's about to shut it down, only to bring it back to life like never before.
Forget everything you thought you knew about Swift because this is going to be epic.
Popular
Aug. 17, 2017 09:05AM EST
Kelsea Ballerini knows what's up. Not only has she become a massive country music star in the last couple of years, she's also becoming known for her down-to-earth advice and very approachable vibe. A couple of years ago, people started comparing her legs to Carrie Underwood's-- a compliment for the ages, sure. But, when asked her workout routine she just said she walks her dog and tries to go easy on the chicken tenders every now and then. (Results definitely not guaranteed.)
When it comes to beauty advice, Kelsea's not trying to talk about some product you can only buy in France under a bridge from someone who once walked past Gwyneth Paltrow-- she's throwing out real helpful advice.
Kelsea told the Grand Ole Opry that it's all about washing your face-- simple, yet effective.
But, really, she started slinging knowledge when she shared some advice from her mom, "My mom told me when I was younger... you either play up the eyes or the lip, but you can't do both because you'd look crazy."
This is the type of advice that should hang on the walls of middle schools everywhere-- kind of like the "hang in there" cat poster.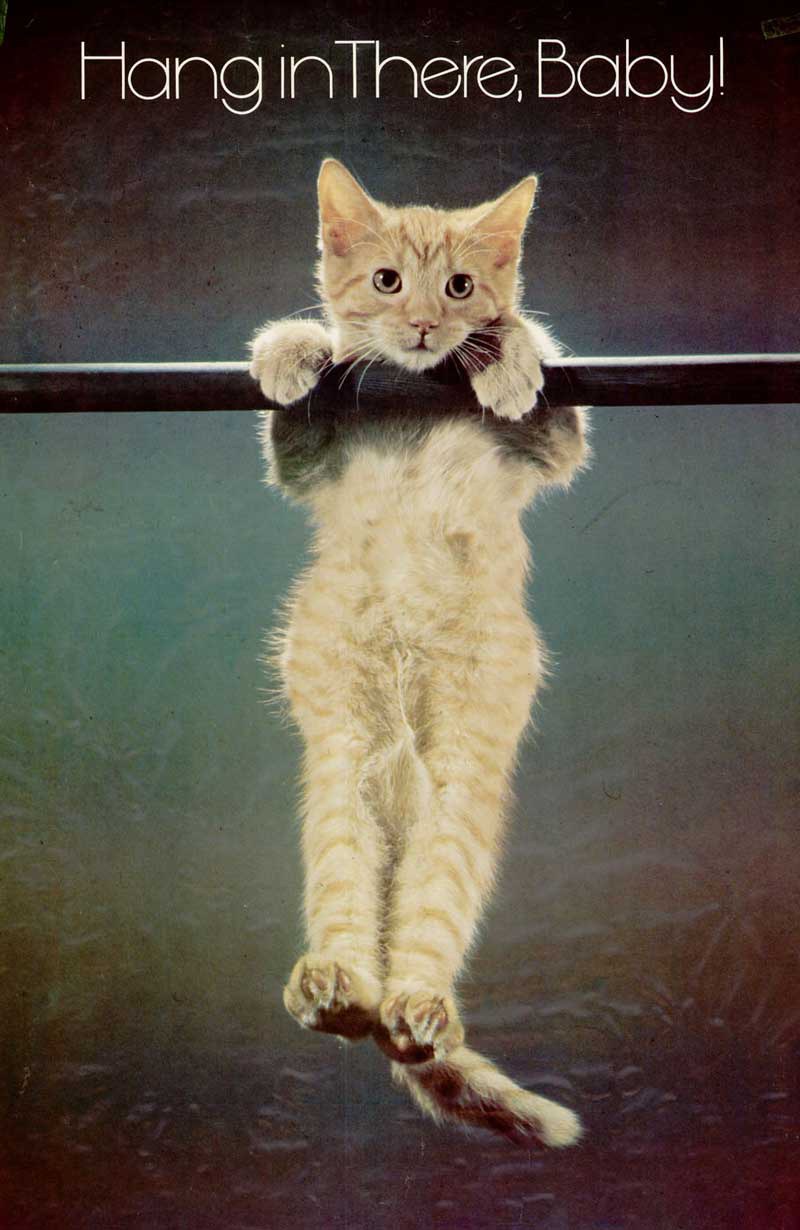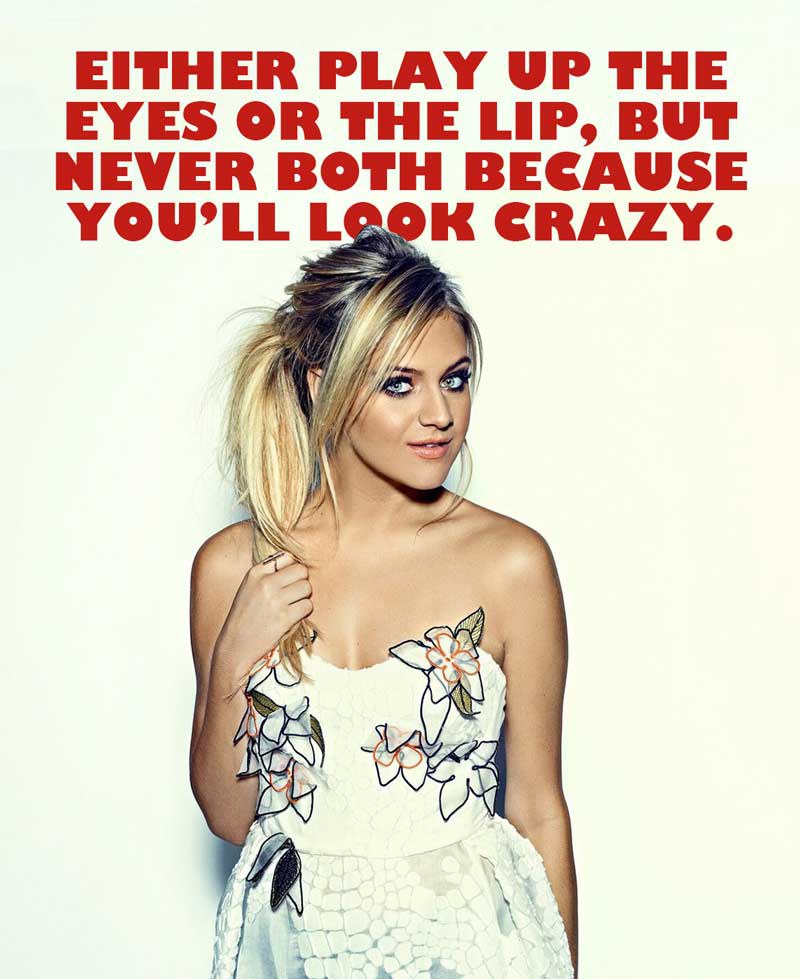 Jason Aldean
Aug. 18, 2017 10:45AM EST
Keep reading...
Show less
Everywhere you turn these days there is excitement for the solar eclipse. I can't blame people either. A total solar eclipse is a once-in-a-generation event so unique that people take vacations and travel oversees to catch them. But with all the buzz about the solar event, a lot of us still don't know exactly what it is. So who better to educate us that 8 year-old genius and Global Science Ambassador Romanieo Golphin, Jr?
Keep reading...
Show less
Kip Moore doesn't usually record songs he didn't write. But once you hear "The Bull," you'll immediately understand why he chose to perform this outside song.
Keep reading...
Show less
Jimmy Kimmel recently spoke out against white supremacy during a late night monologue and upset a lot of people. Our publishing of said monologue created the same effect. Instead of going at his detractors with bared teeth, Kimmel simply read their thoughts out loud on air while blurring out their names, noting where they were right, and where they erred. If there's one thing that can begin to heal our differences it's a rational, calm, conversation.
Keep reading...
Show less