8 Reasons You Should Take a Girls Trip to Asheville
I have fallen madly in love.
This past weekend, two friends and I headed to Asheville, North Carolina, for a weekend getaway. Honestly, I didn't really know anything about the city other than that's where the Biltmore was. Heck, I didn't even know who owned and/or built the Biltmore. I only knew that it was in Asheville and everyone I know loves visiting the estate and the city. I also knew that it was only a four-and-a-half hour drive from Nashville, so away we went.
It was clear almost immediately, though, why people gravitate to this small mountain town. Walking around the downtown area you'll see natives and tourists, a slew of diverse restaurants and art at every turn.
Let me clarify, this wasn't a perfect trip. We had hiccups. For instance, we went to Biscuit Head for breakfast and were extremely disappointed by the food and wait. (I'm serious, I can't recommend it). That said, I enjoyed the experience. I guess that's love. It wasn't perfect but I can't wait to go back.
Here are the eight reasons I fell madly in love with Asheville:
1. The Biltmore
I thought I knew what to expect with the Biltmore. I've been to fancy plantations in the south and palaces and castles in Europe. I had no idea the scope of what we would seeing. The estate itself takes up half the city and has more than just the house. The house should have its own zip code. If you're a Downton Abbey fan, imagine something twice the size of Highclere Castle.
I read somewhere that seeing the Biltmore at Christmas is something you have to do before you die. The holiday season has passed but the house is still decorated and, boy, was it spectacular. There was a choir playing in the lobby and trees the size of most people's houses. I would think it's hard to top the house itself, but adding the Christmas decorations really killed it.
It was roughly $90 to take a night tour, but I have to say I think it was worth it. The night tour included daytime admission to the other activities on the estate, such as the winery. Find more info here.
2. Corner Kitchen
The Biltmore Village is a quaint area just outside of the estate. It almost has a European feel, with streets filled with restaurants and shops. Among them is Corner Kitchen. It's open all day, but I had the honor of eating there for breakfast and my life was forever changed.
The restaurant sits in a converted house, which fits perfectly with the homecooked theme of the food. I also had the best glass of orange juice in the history of the world.
I highly recommend you making a reservation. You won't regret it.
Find more info here.
3. Mountains
Almost every view available to you in Asheville is breathtaking. You're surrounded by stunning mountains. In fact, we actually opted to stay in the mountains. Our trip took place over New Year's Eve weekend and, honestly, I don't like people, so we wanted to be secluded. I booked an AirBnB chalet with a kitchen and hot tub and we couldn't have been happier. The views were outstanding and we were secluded during one of the biggest party nights of the year. That said, we were still 15 minutes from Downtown Asheville. Perfect.
4. Chai Pani
I was confused when I was told to check out Chai Pani, the indian street food restaurant in downtown Asheville. I mean, how can it be indian and street food? Bombay Chili Fries is how. I have never had better Indian food than I did at Chai Pani. And I've never had better service.
They opened for dinner at 5:30pm and we were there by 5:15, meaning we were first in line when the doors open. We ordered drinks, asked some questions, and then something horrible happened. At 6:15, I asked for our checks, because we had a 6:45 appointment at the Biltmore. That's when our server discovered that our order hadn't been entered. The kitchen never got it. He offered to push it through, but we just didn't have time.
So, our amazing server comped what we already had -- three alcoholic drinks and one order of the Bombay Chili Fries -- and brought all three of us $20 gift cards with a slew of apologies.
We went to our tour of the Biltmore and when we finished up at 8:15pm, decided to head back to Chai Pani. Our server spotted us, bought us drinks and made sure that our food was ready in a jiffy. I have never been so impressed by the way anyone has handled a mistake. Not only will I go back, I urge you to go.
Check it out here.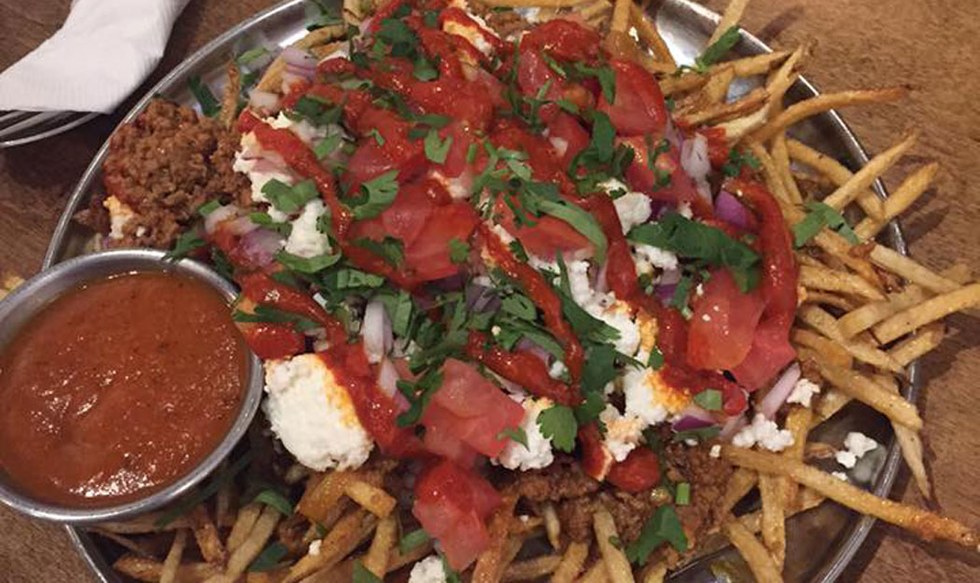 Erin Duvall
5. Asheville Pinball Museum

I haven't played a pinball machine since I was probably seven. The Terminator 2 game was in the Black Eyed Peas restaurant in Austin, Texas, when I was growing up. I'm sure the food at the BEP was good, but I went for the games.
Someone recommended we stop by the Asheville Pinball Museum and my only regret is that we hadn't gone sooner.
For $15, you can play all the pinball and arcade games you want for as long as you want. Not to mention, they have a bar, so you can have a lovely local cider while you try to get your groove back. There are old games, there are new games. There are classics and completely random ones that you never knew existed.
I spent two hours playing pinball machines. Two hours. Check it out for yourself here.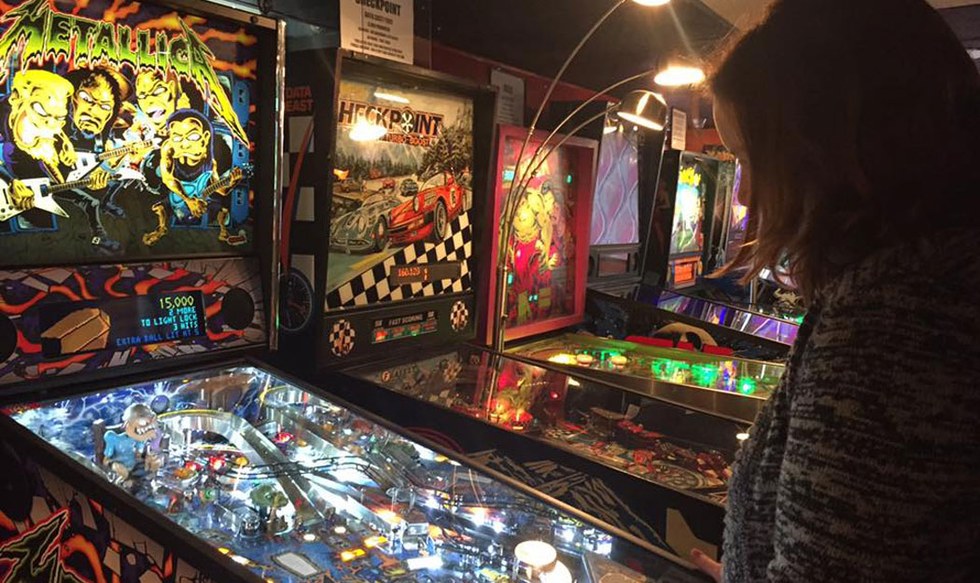 Erin Duvall
6. Woolworth Walk

Remember the old department store Woolworth? In Asheville, they've taken the bones of the old store and given it new life. They've kept the soda fountain the same as it was when the store was functioning but other than that there are rows and rows of local artist's work. I picked up this print and cards from the extremely talented (and affordable) 2D Taxidermy booth. Check it out here.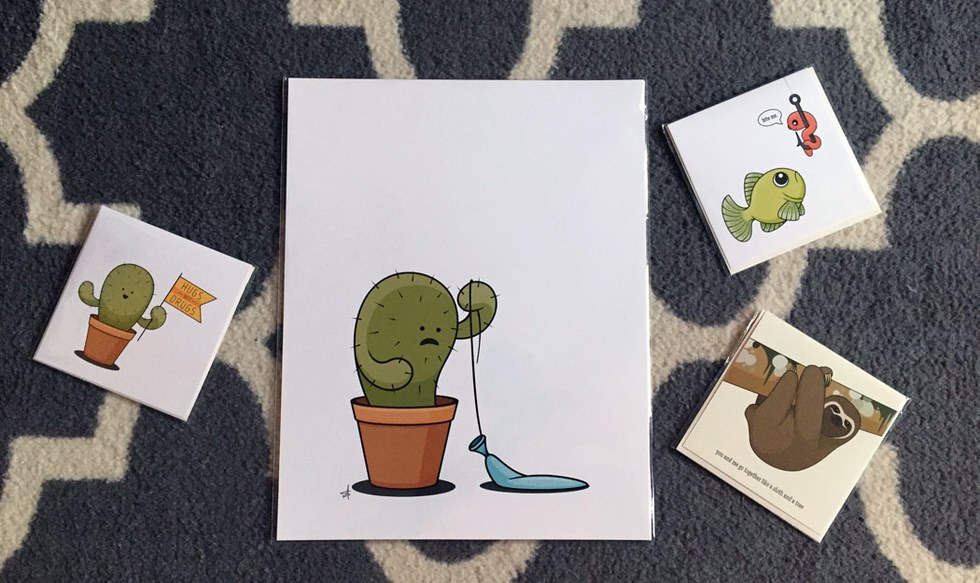 Erin Duvall
7. Rosetta's Kitchen
I'm not vegan or even vegetarian, but I loved Rosetta's Kitchen. I was told that it was a local joint on the edge of Downtown and decided to give it a go despite the meatless menu. I'm so glad that I did. Again, they had a broad selection of local beers (and ciders for us who can't get gluten). It also had a ton of gluten free options to warm the belly. I landed on the pad thai and was delighted by the flavor combination. I highly recommend going meatless for one meal and checking this place out. Details here.
8. Burial Beer
Asheville is a beer town. There are a slew of local breweries. I only made it to one. Burial had the coolest vibe. You pull up and see this picture on the side of wall. Yes, that's Tom Selleck and Sloth from "Goonies." There's a bunch of outside seating or you can soak up the atmosphere inside, while sipping on one of their signature drinks. Check it out here.
Chances are, if Luke Bryan asked to borrow your phone, you'd let him borrow it. Even if he was on stage in front of thousands of people. And chances are, unlike when you let other people borrow your phone, you wouldn't hand it over and say, "don't scroll left!" or "don't look at my texts." This is what happened to a fan when she let Luke borrow her phone on stage during a recent show.
Keep reading...
Show less
Jun. 26, 2017 01:24PM EST
Keep reading...
Show less
If "Bachelor In Paradise" is going to turn into a he-said-she-said, things are going to get really weird. The weirdness is starting with DeMario Jackson and his first interview with "E! News," where he described in detail everything that happened during his brief time on the show.
Keep reading...
Show less
Keep reading...
Show less
Lindsay Ell is a Canadian country singer who is currently signed to Stoney Creek Records, home of Thompson Square, Randy Houser and Parmalee. It's the sister label to Broken Bow Records, which currently boasts Jason Aldean and Dustin Lynch on its roster. She's released several singles to country radio including, "Trippin' on Us," "Shut Me Up" and "By the Way." None of them have cracked the Top 40. However, lately she's been getting a lot of heat for dating syndicated radio host, Bobby Bones.
Keep reading...
Show less
Last night (June 26), Kelsea Ballerini decided to have a party just to support females in country music. No special occasion, just an opportunity to talk about their triumphs and their challenges.
Keep reading...
Show less
Sam Hunt has taken the world's most unlikely compliment, "Body Like A Back Road" all the way to No. 1 on every country music chart out there and the song is in the Top 15 on Billboard's Hot 100 chart.
Keep reading...
Show less
The bachelors and bachelorettes have repacked their beach wear and returned to the magical shores of "Bachelor in Paradise." But this time, there are some new rules the producers have put in place to make sure another scandal doesn't threaten the show.
Keep reading...
Show less
Jun. 26, 2017 07:20PM EST
For a two-time CMA Entertainer of the Year, Luke Bryan sure has his fair share of stage mishaps. His most recent mishap was enough to make him stop and sit for a second.
Keep reading...
Show less