© 2017 One Country. All Rights Reserved.
Apr. 28, 2017 12:18PM EST
Keith Urban's 2016 release RIPCORD, was unprecedented before its release with two No. 1 singles in "John Cougar, John Deere, John 3:16" and "Break On Me." Now, the album has reached even newer heights.
Urban is one of only two country artists whose 2016 album release was certified platinum by the RIAA.RIPCORD also places Urban as the second country artist (amongst artists with nine or more platinum releases) to currently have every album certified platinum or multi-platinum. This platinum streak of nine also places Urban at No. 8 on the all-time list of country artists with consecutive platinum albums.
Upon its release, Urban yet again did what no other male solo country artist in history has been able to do, celebrating a No. 1 all-genre album chart position simultaneously in the U.S., Australia and Canada. RIPCORD has also been certified platinum in Australia and Gold in Canada.
RIPCORD has also produced four No. 1 country radio singles bringing Urban's career total No. 1 singles to 22 (on Mediabase). This also brings his record-breaking, historic run of consecutive Top 10 songs to an incredible 37 and places Urban at No. 8 on Billboard's all-time Country Airplay Chart.
Urban's significance in the streaming marketplace is undeniable, as his worldwide streams have topped 3.4 BILLION, with over 524 million on RIPCORD alone. His latest No. 1 song "Blue Ain't Your Color" has over 160 million streams and it spent 13 weeks as the most-streamed country song.
In Australia, RIPCORD was 2016's No 2 selling album on the all-genre chart behind Adele's 25. It spent 27 weeks in the Top 10. The album also produced Urban's first Top 10 and over 6.4 million streams. In Canada, with over 29 million streams, RIPCORD has produced four No. 1 country radio singles, all of which have held the No. 1 spot for 3 weeks or more.
Keep reading...
Show less
Apr. 24, 2017 03:58PM EST
Keith Urban's RIPCORD has been out for an entire year now and the unprecedented country album has garnered more accolades than seems fathomable.
The album itself was nominated for CMA and ACM Album of the Year, plus Best Country Album at the GRAMMYs. On top of that, four singles from the project ("John Cougar, John Deere, John 3:16," "Wasted Time," "Break on Me," and " Blue Ain't Your Color") all reached No.1 on the country charts.
Though the album and its singles have been super successful, there's a lot more to the album.
Urban's "Gettin' In The Way" is essential Urban and is the story of young love and needing to leave, but you just can't.

I should leave, put the car in drive babe
But your kiss keeps tellin' me to stay
Yeah, your lips keep gettin' in the way
You know we should've called it a night, babe
But goodbye's something I can't say
Yeah, your lips keep gettin' in the way (gettin' in the way)

'Cause goodbye's something I, something I can't say
Yeah, your lips keep, keep Gettin' in the way
The song was written by Emily Weisband, Jordan Reynolds and David Hodges, but Urban produced it and made it his own-- like he always does somehow.
Keep reading...
Show less
Apr. 17, 2017 11:46AM EST
Keith Urban grew up heavily influenced by many different types of music in Australia, but one group in particular was actually from his area and that made him see his dreams could come true too.
Before paying tribute to the Bee Gees during the "Stayin' Alive: A GRAMMY Salute To The Music Of The Bee Gee," Keith shared that he shared an extra connection to the Brothers Gibb because, "they were living about 100 miles from where I grew up with my family and truly, that sort of thing makes your dreams seem a little bit closer."
Keith played the tune, "To Love Somebody," which he called one of the greatest love songs ever written and his performance of the song proved just that.
Before the show, Keith also discussed how the Bee Gees' music transcends generations and genres.
Keep reading...
Show less
Apr. 14, 2017 11:31AM EST
It wasn't a Keith Urban cover band. It was Keith Urban.
After a couple of hours of speculation and a few tweets claiming they "spotted" Urban outside of a Nashville club, it was confirmed-- Urban was playing a surprise pop-up show at 12th & Porter in Nashville.
The small Nashville venue was packed even though Urban only confirmed the show with a tweet a couple of hours before he was set to take the stage.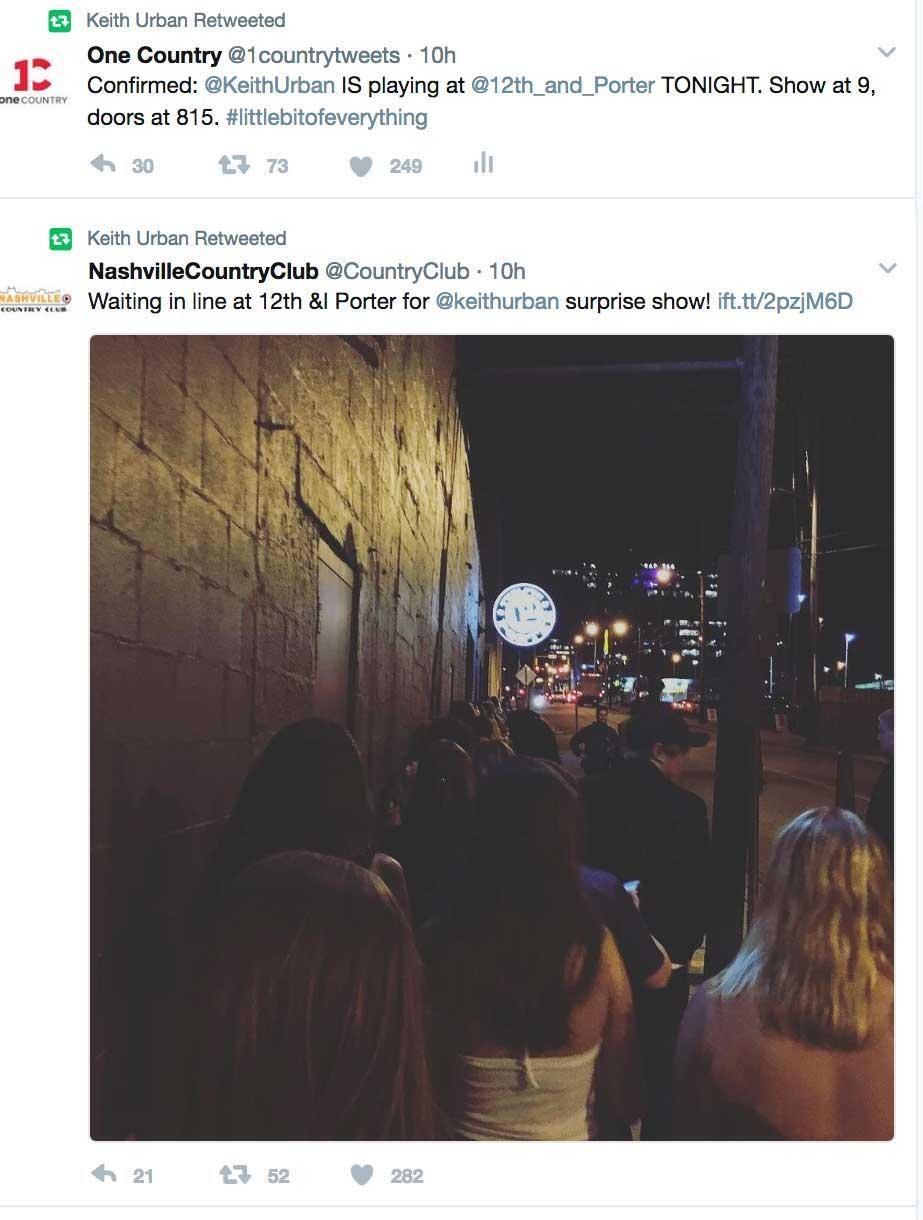 Urban played for over 2 hours and brought a couple of fans up on stage, including a Vanderbilt student celebrating her birthday and Lisa Nicole who sang Miranda Lambert's part on "We Were Us." Urban also brought up Steven Lee Olsen to help sing "Blue Ain't Your Color," the songwriter's first No. 1 hit.
To really make it a surprise show, Urban played "8675309/Jenny" and dedicated it to Nicole Kidman, who was in the crowd.
Only Keith Urban. And only in Nashville.
Keep reading...
Show less


Get One Country in your inbox