Nicole Kidman Just Revealed That She Was Once Engaged to Lenny Kravitz
First of all -- what?
During a recent interview with The EDIT, Nicole Kidman casually revealed that, once upon a time in 2003, she was engaged to her rumored-boyfriend and world-renowned rocker Lenny Kravitz.
And now, his daughter Zoë is her co-star in HBO's new mini-series "Big Little Lies."
"Well, I knew Zoë because I was engaged to her father. It's all in the family!" Nicole said. "I love Lenny; he's a great guy."
Whoa.
Though it was never confirmed (until now), engagement rumors surrounded the couple when they dated in between Nicole's divorce from Tom Cruise in 2001 and her marriage to Keith Urban in 2006.
"It just wasn't right," she told Vanity Fair in 2007 of the secret engagement. "I wasn't ready. We weren't ready."
However, even with the broken engagement, Nicole and Lenny remain friends.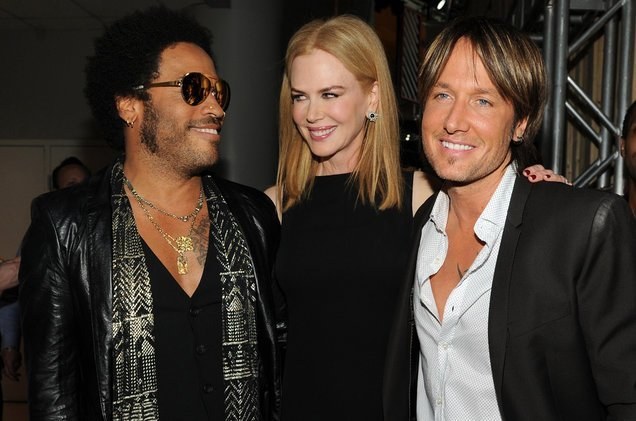 Twitter
The more you know...
Chances are, if Luke Bryan asked to borrow your phone, you'd let him borrow it. Even if he was on stage in front of thousands of people. And chances are, unlike when you let other people borrow your phone, you wouldn't hand it over and say, "don't scroll left!" or "don't look at my texts." This is what happened to a fan when she let Luke borrow her phone on stage during a recent show.
Keep reading...
Show less
Jun. 26, 2017 01:24PM EST
Keep reading...
Show less
If "Bachelor In Paradise" is going to turn into a he-said-she-said, things are going to get really weird. The weirdness is starting with DeMario Jackson and his first interview with "E! News," where he described in detail everything that happened during his brief time on the show.
Keep reading...
Show less
Keep reading...
Show less
Lindsay Ell is a Canadian country singer who is currently signed to Stoney Creek Records, home of Thompson Square, Randy Houser and Parmalee. It's the sister label to Broken Bow Records, which currently boasts Jason Aldean and Dustin Lynch on its roster. She's released several singles to country radio including, "Trippin' on Us," "Shut Me Up" and "By the Way." None of them have cracked the Top 40. However, lately she's been getting a lot of heat for dating syndicated radio host, Bobby Bones.
Keep reading...
Show less
Last night (June 26), Kelsea Ballerini decided to have a party just to support females in country music. No special occasion, just an opportunity to talk about their triumphs and their challenges.
Keep reading...
Show less
Sam Hunt has taken the world's most unlikely compliment, "Body Like A Back Road" all the way to No. 1 on every country music chart out there and the song is in the Top 15 on Billboard's Hot 100 chart.
Keep reading...
Show less
The bachelors and bachelorettes have repacked their beach wear and returned to the magical shores of "Bachelor in Paradise." But this time, there are some new rules the producers have put in place to make sure another scandal doesn't threaten the show.
Keep reading...
Show less
Jun. 26, 2017 07:20PM EST
For a two-time CMA Entertainer of the Year, Luke Bryan sure has his fair share of stage mishaps. His most recent mishap was enough to make him stop and sit for a second.
Keep reading...
Show less