© 2017 One Country. All Rights Reserved.
Mar. 06, 2017 11:38PM EST
Chase Bryant is a big James Bond fan.
If you didn't know that, it became quite apparent when he released his music video for "Room to Breathe."
So I sat down with Chase recently and asked him a super important question when it comes to Bond fans: who should be the next Bond?
I was genuinely shocked to learn his answer: Matthew McConaughey.
The singer said when he saw the below ad, starring the actor, he was convinced.
Hear Chase's full explanation here:
Mar. 03, 2017 03:18PM EST
A good speech can turn a mediocre movie into an inspirational masterpiece in only a few short lines. Whether it's a coach inspiring his team before the game, soldiers before a big battle, students in a lecture, or as a rally cry against all that is evil — the speeches on this list below transcend art and leave all who are watching with a source of pure inspiration.
25 of the Greatest Movie Speeches of All-Time:
25. "Saving Private Ryan" (1998) – The farther from home I feel.
The perfect story of redemption for a war hardened soldier who has experienced way too much death.
24. "Caddyshack" (1980) – Cinderella story.
Bill Murray at his finest.
23. "Mr Smith Goes to Washington" (1939) – Well, I guess this is just another lost cause, Mr Paine.
Beaten, exhausted and near collapse, Mr. Washington still finds the energy to promise to continue the fight against political corruption.
22. "Pulp Fiction" (1994) – Ezekiel 25:17.
21. "The Shawshank Redemption" (1994) – Get busy living or get busy dying.
The monologue to the parole board is the culmination of Red's time in prison, and, with the aid of the fact it's Morgan Freeman, it does not disappoint.
20. "The Replacements" (2000) – Pain heals, chicks dig scars and glory lasts forever.
Short, sweet, and straight to the point. Never has so little been said that meant so much.
19. "Wall Street" (1987) – Greed is good.
It's scary how true this speech is today, even though this film was made over thirty years ago, is it not?
18. "Henry V" (1944) – St. Crispin's Day Speech.
It's written by Shakespeare. Add Laurence Olivier's acting and you've got yourself quite a speech.
17. "Gladiator" (2000) – My name is Maximus.
It's amazing how only a few lines in the right setting, immersed in the right musical score, can have such an effect on your goose bumps.
16. "300" (2006) – Final Speech.
If you ever have a trouble overcoming an obstacle in your life, this is the pep talk you need to hear.
15. "Dead Poets Society" (1989) – Seize the day.
Name a better film that matches the wit, charm and passion found in "Dead Poet's Society"' Good teachers inspire their students. This speech nails it.
14. "Good Will Hunting" (1997) – Your move, Chief.
This 4-and-a-half minute speech on the park bench is what won Robin Williams his only Academy Award.
13. "Remember the Titans" (2000) – Gettysburg.
You don't always need overbearing screaming to get you in the right mood. Sometimes, you all you need is a little anguish, a history lesson and your place within it.
12. "Friday Night Lights" (2004) – Boys, my heart is full.
Cliché, yes, but it's one of the few halftime football speeches that actually gets it right.
11. "Rudy" (1993) – Are you hearing me clear enough?
There are only a handful of films that men will acknowledge crying in. "Rudy" is one of them.
10. "To Kill a Mockingbird" – Believe Tom Robinson.
Few characters in cinema have served as such a role model as Atticus Finch. This courtroom scene is why he is one of the greatest heroes in cinema.
9. "We Are Marshall" (2006) – We cannot lose.
Competition is not always about winning. Sometimes it is doing your best and knowing you gave it your all.
8. "Rocky Balboa" (2006) – It ain't how hard you hit.
One of the best father-to-son speeches. Very emotional stuff.
7. "Network" (1976) – Mad as hell.
Few film speeches have been as prophetic, passionate or socially relevant as Howard Beale's words. Sometimes you've got to get mad and stand up for what you believe in if you want to make a difference. This speech is probably more relevant today than it was 30 years ago.
6. "Scent of a Woman" – I'm just getting warmed up.
A great flame thrower of a speech by Al Pacino. A stand up and cheer moment if there ever was one.
5. "Braveheart" (1995) – Freedom Speech.
No matter how many times you've watched the movie, it will always make you want to put on a kilt, paint you face blue, and go fight beside him.
4. "The Great Dictator" (1940) – You are not machines!
You are not cattle! You are men! It's amazing that Charlie Chaplin's plea for humanity is as relevant today as it was in 1940.
3. "Hoosiers" (1986) – I don't care what the scoreboard says.
The ultimate pre-talk speech for the ultimate underdog story.
2. "Any Given Sunday" (1999) – Life is a game of inches.
After Al Pacino's speech, who wouldn't want to go out and conquer the world?
1. "Pride of the Yankees" (1942) – Luckiest man on the face of the earth.
This a no-brainer. No musical score needed. Just the sound of Gary Cooper's shaky, choked-up voice addressing the weeping crowd.
Feb. 09, 2017 03:57PM EST
Throughout his career, Matthew McConaughey has acted across from some pretty attractive, talented women.
From Sandra Bullock, to Jennifer Lopez, to Kate Hudson, to Sarah Jessica Parker, to Reese Witherspoon/ the 47-year-old actor has been lucky enough to share the screen with many of Hollywood's most powerful female talents.
But, it wasn't until Matthew met his wife Camila Alves that he says he knew real love and happiness.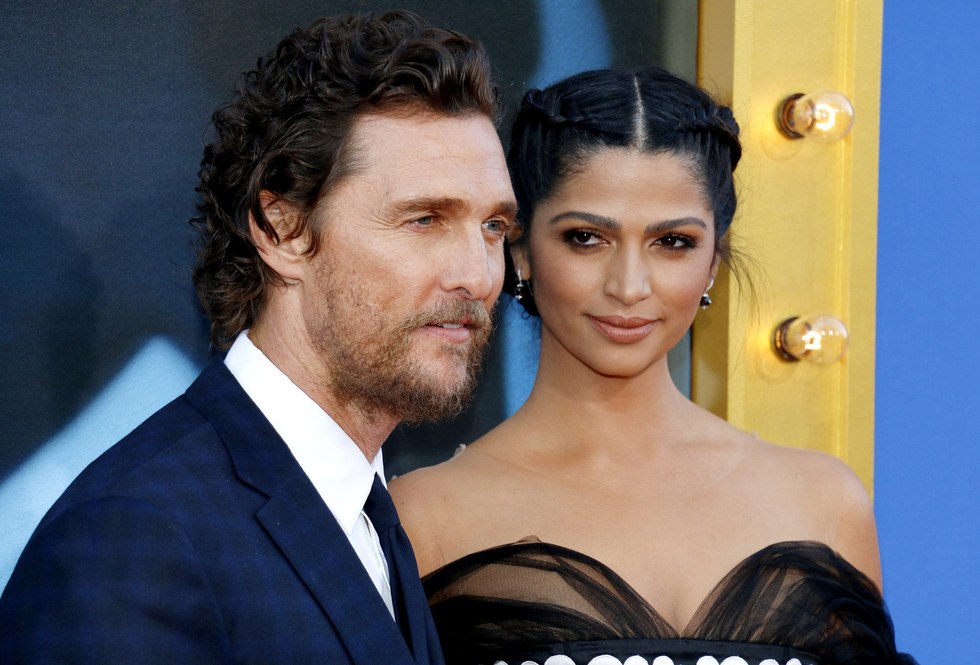 BigStock
During a recent interview with Entertainment Weekly, Matthew shared his and wife Camila's love story -- and it's insanely adorable.
Apparently, Matthew was in a season of happy singledom, but then, Camila came into the picture.
"I was not looking, I was very happily single... and healthily single... I was good with hanging with me," he said. "But, we met, and the self-respect she had for herself, and the way I understood her... the way she respected me, but never took anything for-granted... We went out on our first date, and I've been wanting to go on a date with her for the past nine years, and no one else.
So beautiful.
Jan. 25, 2017 02:49PM EST
I don't know about you, but I know a lot of Matthews who go by "Matt" -- like, I'm married to a Matthew who goes by "Matt." But apparently, you should never call Matthew McConaughey "Matt."

During his most recent interview with Jimmy Kimmel, the 47-year-old actor told a story of the time his friend called him "Matt," and his mom totally freaked out.
"I was in kindergarten... and my friend, John Griffith, says 'Hey Matt, you want to go play on the monkey bars?' and I ran out and said, 'Yeah,'" Matthew explained. "Halfway to the monkey bars, I feel this hand on my shoulder... get slammed to the ground, I look up, it's my mother... she said, 'Don't you ever answer to 'Matt' again, I named you Matthew from the Bible.' I was like, 'Yes ma'am.'"
So, even to this day, Matthew doesn't respond to "Matt" in fear that his mom could be right around the corner -- LOL.


Get One Country in your inbox