You Can Win a Super Classy Valentine's Date With Tara Thompson at White Castle in Tennessee
Gentlemen, are you looking for love?
Well, you might not find it this way, but at least you'll get a free meal and a Valentine's date with Tara Thompson.
"When they first told me they wanted to do a 'someone win a date a with me' I thought, 'Oh, lord, here we go!'" Tara told One Country. "But now I'm excited. I don't know how much of a 'date' it will be. It will be more of trying to get to know someone who might not know a lot about me. It'll be fun. I'll be goofy."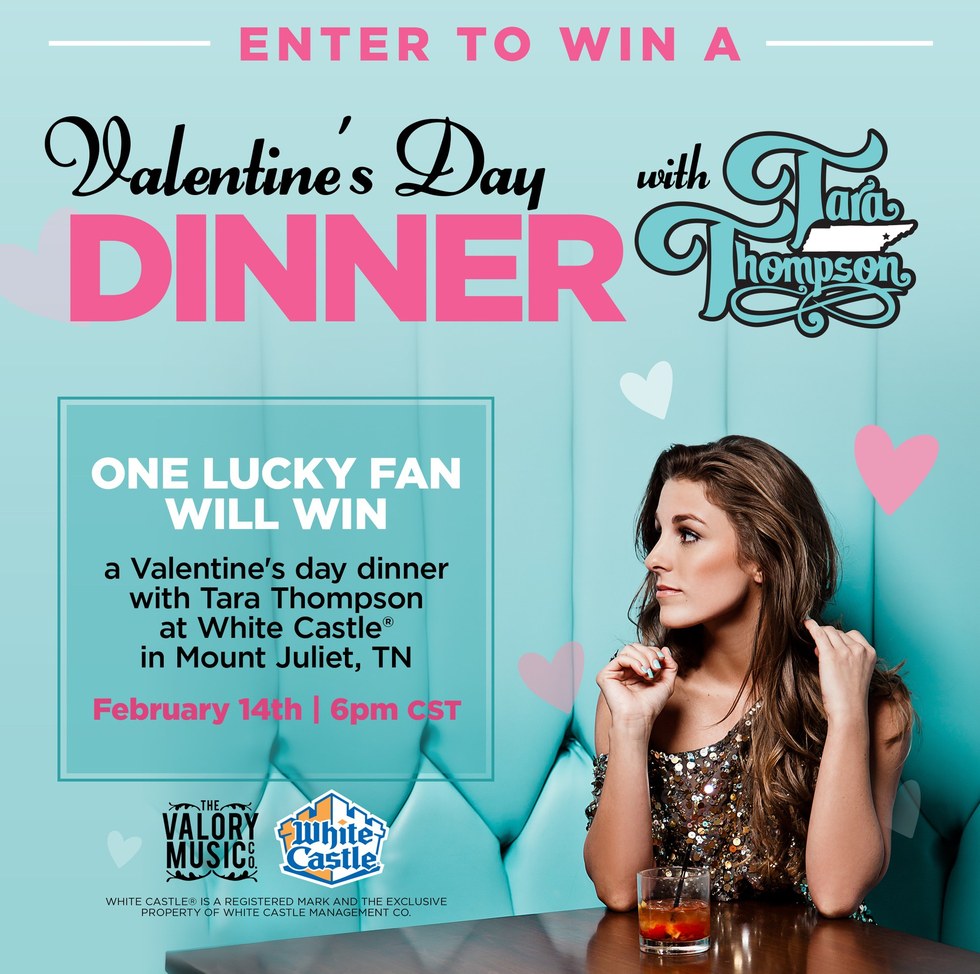 Valory Music Company
The songstress says she doesn't know how to date, but I'm sure anyone would have blast getting to know the singer and enjoying her favorite fast food joint.
"I love White Castle," Tara said. "I'm such a healthy eater [laughs]. I like fast food because I'm always on the road. There are not as many White Castles out there, but when you come in to TN there are several. I worked the drive thru of White Castle for a video a while back and it was so much fun. The staff were the friendliest people."
The one catch is that you have to get yourself to Tennessee, if you win.
Enter here.
Apr. 28, 2017 11:04AM EST
Teeth and pretty unique and personal to one's body, so going to the dentist is usually a unique and personal experience to each person. And having a dentist that makes you feel comfortable is super important. Jimmy Fallon understands this-- mostly.
Fallon's most recent trending hashtag, #MyWeirdDentist brought some pretty weird dentists into our lives, which will make all of our dental experiences in the future an even more unique experience as we recall these tweets.
Keep reading...
Show less
Apr. 28, 2017 07:19PM EST
Amy Grant is now a permanent fixture in Nashville.
The songstress was inducted into Music City Walk of Fame on April 27. MercyMe frontman Bart Millard gave a moving and heartfelt introduction to his longtime friend.
The Music City Walk of Fame is located in Downtown Nashville in the Hall of Fame park directly across from the Country Music Hall of Fame and Museum.
Keep reading...
Show less
Apr. 28, 2017 05:28PM EST
RaeLynn can make me cry. She was on "Late Night With Seth Meyers" this week to perform "Love Triangle" and I didn't even last through the first chorus before the tears started rolling.
RaeLynn wrote this song about her parent's own divorce with Nicolle Gaylon and Jimmy Robbins and her pain comes through every time she sings it.
I haven't experienced her emotions first hand (my parents have been married for 85 million years) but seeing how the big D affected her life just cuts me at my core.
Watch her flawless performance:
Keep reading...
Show less
Apr. 28, 2017 04:36PM EST
The reflective tune was written by Brinley Addington, Michael Hardy and Sarah Turner and has a powerful message that resonates with someone like myself, who tends to be overextended but has good intentions.
"I'm not exactly known for walking the 'straight and narrow,' but I have a strong conscience and I was taught right from wrong," Tyler says.
Saw a man on the sidewalk /
"Hungry" written in red chalk /
Maybe he just wanted to talk /
But I walked away /
Saw a kid on the TV /
He was only seventeen /
Wrapped his truck 'round an oak tree /
The whole town prayed /
I should go to church sometime
"It's something that we all face at some point," Tyler adds. "What am I going to do? How am I going to act? What am I going to do today that's different from yesterday? That decision is what this song is all about."

I should go to church sometime /
Walk a little straighter line /
Lord knows I could use some light /
To get where I'm going /
I shouldn't say "next Sunday" /
I shouldn't let my pride get in the way /
I know I shouldn't be afraid /
Of what I know I'll find /
I should go to church sometime /
I should go to church sometime /
Keep reading...
Show less


Get One Country in your inbox