Popular
Sep. 21, 2017 01:49PM EST
Ron McNeil and Georgia Lyons recently filed a lawsuit in federal court stating that, Carrie Underwood and her co-writers on "Something in the Water" stole the song from them.
Their lawsuit reads, "the hook on the infringing work, as released on the album, is structurally and lyrically identical, and substantially similar melodically to plaintiffs' composition of the same title."
The duo is also claiming they sent the song to Underwood, but "never heard back" and then she released the song.
Ummm...okay, now something's fishy.
Carrie Underwood probably gets sent a song every 2 hours from songwriters. Lots of those songwriters probably "don't hear back." She's Carrie Underwood.
You know what else is fishy? Ol' Ron McNeil's website. I know I work for the Internet and might have more knowledge on websites than a lot of people, but this is not the website of a hit songwriter.
Keep reading...
Show less
Keep reading...
Show less
Popular
Sep. 22, 2017 05:56AM EST
There's not going to be a sophomore slump for Kelsea Ballerini, not even when it comes to the song, "High School."
The tune is off Ballerini's upcoming Unapologetically and is the third release from the project. Her current single "Legends" is in the Top 30 at country radio.
Ballerini's "High School" is a songwriter's song-- a bittersweet, slow, nostalgic tune written solo by Ballerini. It's her "Better Man."
Ballerini wrote the song in her hometown bedroom to make sure she should could still do it on her own, ""When you write a song by yourself, there's a different level of vulnerability that you can tap into...I started relying on other people's creativity so much that I stopped believing in myself enough to write a song by myself," she told Time.
Though much of Unapologetically is about a rough breakup and finding love with Morgan Evans, "High School" is more of a reflection on how much Ballerini has changed since moving to Nashville, getting a record deal and racking up three No. 1 singles, "it's not necessarily about the boy that the song is referring to: it's about that moment when you realize you've outgrown your young self. You've changed, and you've evolved and you don't fit somewhere anymore."
Keep reading...
Show less
News
Sep. 23, 2017 09:52AM EST
Forty years ago, Reba McEntire made her debut on the Grand Ole Opry. Last night she celebrated that milestone with surprise appearances from Dolly Parton and Carrie Underwood. Her good friend Vince Gill hosted the show.
McEntire, who made her debut on September 17, 1977, recalled the momentous occasion saying, "It was a lot of fun. It was nerve-wracking; it was scary. This means the world to me. It's been a wonderful 40 years. I couldn't have done it without you, and I wouldn't have wanted to!"

Underwood surprised the crowd by performing her hits "Wasted," "Church Bells" and "I Told You So." She then took the stage for a duet with McEntire on a stunning rendition of the 1993 hit "Does He Love You." "It's always an honor to be on this stage, especially tonight. You are an inspiration to us all," Underwood told the legendary singer.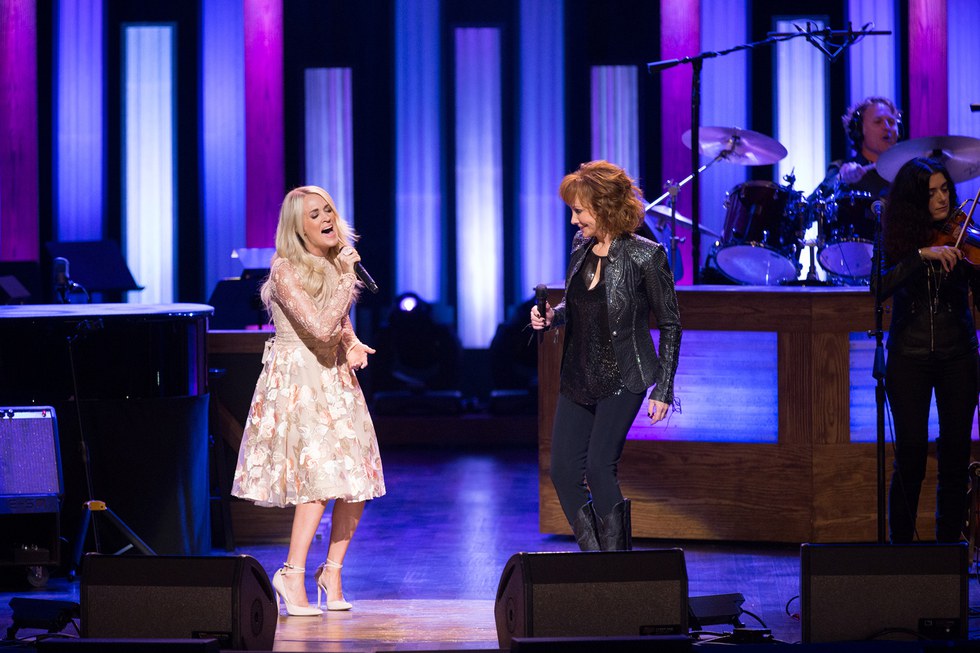 Carrie Underwood and Reba McEntirePhoto by Rachael Black/Grand Ole Opry
When Parton took the stage, she recalled McEntire's special night forty years ago. It just so happened that the "9to5" singer was making a surprise appearance on the Opry that same night. As a result, McEntire had to cut her performance down to one song.
"I just wanted to give it back to you tonight ... and say hello and congratulations and how much I love you," Parton said to McEntire. This time around, Parton was on hand to present a three-tier cake to McEntire in celebration of her big night.
As Gill hosted the show, he shared some kind words for his good buddy saying, "She's an old, sweet, dear friend of mine, "There's not many people you can guarantee they've got your back. And this is one of my best friends in the world."

Congratulations Reba. Here's to 40 more!

Opry celebrations continue into October with the Opry's 92nd Birthday October 6 & 7 and the induction of its newest member, Chris Young, on October 17.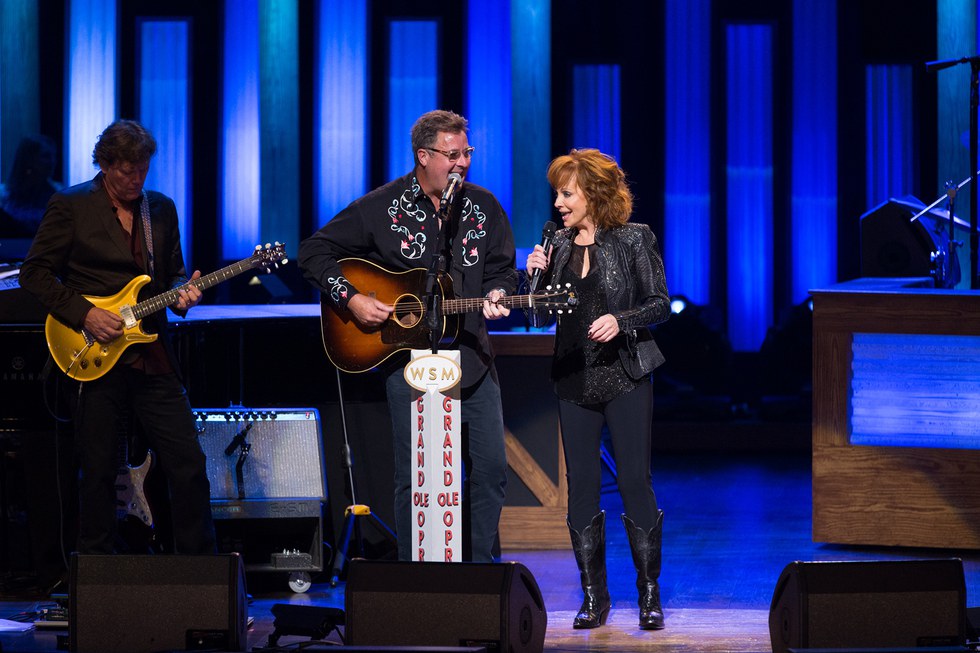 Vince Gill and Reba McEntirePhoto by Rachael Black/Grand Ole Opry
News
Sep. 22, 2017 03:09PM EST
Eric Church's 61 Days in Church project is in full swing.
The singer has recorded over 200 live performances from his 61-date Holdin' My Own Tour and he's releasing the recordings to the public. Church initially released 30 live recordings from various stops across North America on Sept. 1 and has now released 30 more songs. That's a lot of songs, with more to come.
The songs performed by Church consist of catalogue cuts and singles as well as cover songs inspired by each tour stop.
"I had so much fun learning songs that were unique to whatever city we found ourselves in," Church said. "I learned a lot about each place, and it was special to see the crowd react to the songs that were only for them. I'm glad we recorded it and can relive it forever."

The North Carolina native partnered with Apple Music to release over 100 live recordings. The songs will be available on Apple for a two-week period and will then become available on all streaming services. Physical releases of all the songs will be made available soon.
30 New Live Recordings Released
"I'm Gettin' Stoned"
"It Makes No Difference"
"Drink In My Hand"
"Alberta"
"Smoke a Little Smoke" (Acoustic)
"Sundown"
"Chattanooga Lucy" (feat. Joanna Cotten)
"Get Up Jake"
"Don't Do It"
"Like Jesus Does" (feat. Joanna Cotten)
"Up On Cripple Creek"
"Pledge Allegiance to the Hag"
"Ramblin' Gamblin' Man"
"Creepin'"
"My Town"
"Livin' Part of Life"
"Ophelia"
"The Hard Way"
"Memphis Medley" (How I Got to Memphis/Walking in Memphis)
"Kill a Word" (feat. Joanna Cotten)
"Better Man"
"Lightning" (Acoustic)
"Jolene"
"Can't Take It With You"
"Portland" (feat. Joanna Cotten)
"Mr. Misunderstood"
"The Shape I'm In"
"Hell On the Heart"
"The Night They Drove Old Dixie Down"
"Young and Wild"
Popular
Sep. 22, 2017 01:01PM EST
Keep reading...
Show less
News
Sep. 22, 2017 12:08PM EST
Kenny Chesney has been living in the U.S. Virgin Islands for over two decades, so when Hurricane Irma and subsequently Hurricane Maria came through and devastated most of the islands, Chesney needed to do something. He wanted to help the many friends he made over the years on both the U.S. and British Virgin Islands
That's why Chesney created Love for Love City Foundation. The foundation was started to identify pressing local needs, create opportunities for companies to donate supplies, food, physical goods or transport and people to contribute to the ongoing rebuilding of the islands.

"Getting supplies in is hard. Finding places for workers to stay is even harder now that Hurricane Maria has done so much damage to St. Croix," Chesney says. "Because it's so hard to get even the basic supplies in, let alone the news media, people really aren't seeing how devastating these hurricanes have been."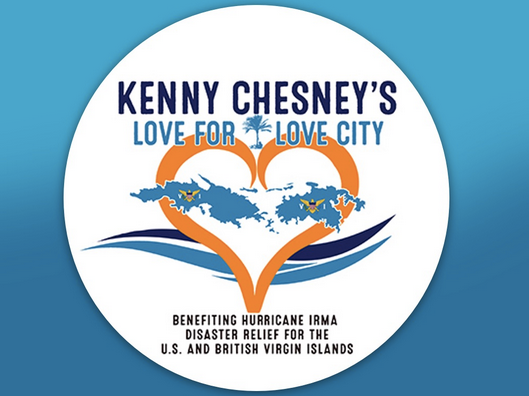 Chesney has already been doing everything he can to help out, including using his private plane to transport supplies such as, food, water, medical supplies, generators, tools, clothes, tarps and camping equipment, to those in need. The plane was also useful when Chesney transported two teen boys, who were stranded, over to the states to be with their mother.
"With all the crisis across the country, it's so easy to feel overwhelmed, or to respond to the first person who reaches out. In St. John and the other surrounding islands, there is so much more to the needs than just materials," Chesney adds. "We have to get the equipment necessary there… We need to figure out how to shelter workers rebuilding the community… We have to understand, too, that entire communities have been wiped out. Right now, making sure the people in the U.S. and British Virgin Islands aren't forgotten in all the other equally troubling stories is critical."
The "Living in Fast Forward" singer wants everyone to know that Love for Love City is the sole charity that he is affiliated with. Other charities claiming to be associated with or working with the singer are not to be trusted.

Donations to Love For Love City can be made HERE.

Popular
Sep. 22, 2017 01:56PM EST
Country music has a way with words that works contrary to our expectations. Midland doesn't have a drinking problem, in fact, they're pretty good at it. Thomas Rhett's "Marry Me" is anything but a proposal. And Darius Rucker's new love song "Don't" isn't about a couple arguing, it's a reassurance that he will be there through thick and thin. If his gal ever thinks he might leave, he has one word for her: don't.
Keep reading...
Show less
As students, we thought all of our teachers we a bit weird, some in the best ways, like that crazy aunt you absolutely love. Others left you wondering, "Is he a real person or an alien trying to be human?" Jimmy Fallon's hashtag challenge round up the latter. As adults, we know that these are just adults trying to add some spice into their lives or do something to make themselves laugh during the day. No matter the reason every teacher has something special about them.
Keep reading...
Show less


Get One Country in your inbox