© 2017 One Country. All Rights Reserved.
Apr. 20, 2017 07:25PM EST
Westerns aren't as popular as they used to be, what with Marvel and "Star Wars" dominating the box office. But you should never think that the genre is unimportant. Fun films about outlaws and frontier justice are both entertaining and help us investigate deeper questions about morality, justice, duty, love, and what it means to be a good person.
There are many great westerns and everyone has their own opinions about which is best. I'm not going to tell you which western is best, it's dealer's choice. But there are some westerns every fan must see. This list will give you an overview of the genre's history, breadth of story, the high notes, and where the genre is heading today.
18 Must-See Westerns for Movie Lovers:
1. "El Dorado"
Howard Hawks magnificent story of a ragtag bunch of heroes fighting against greedy ranchers. It's funny, action packed and boasts an all-star western cast.
2. "3:10 to Yuma"
Christian Bale plays a down-on-his-luck rancher tasked with escorting a dangerous outlaw (Russell Crowe) to justice. But when the two are form an unlikely alliance, the men must decide if they can go against their moral codes or die taking a stand.
3. "Once Upon a Time in The West"
There's a fine line between revenge and justice, but sometimes the two find the same end. Sergio Leone's masterpiece is may not only be one of the greatest westerns of all time, but perhaps is one of the greatest films ever made.
4. "Hell or High Water"
When a ruthless bank threatens to foreclose on their mother's land, two brothers (Chris Pine and Ben Foster) decide to rob the bank to pay the loan and end up on the run from the law. This movie was nominated for a couple of Oscars in 2016 and absolutely lives up to the hype.
5. "The Ox Bow Incident"
Henry Fonda plays a drifter who gets pulled into a lynch mob in this classic film that looks at what causes normal men to love violence and skirt justice. Bonus: The trailer is a great example for how much movie marketing has changed in the last 60 years.
6. "The Man who Shot Liberty Valance"
What does true courage and leadership in the face of violence look like? James Stewart plays a mild mannered politician who doesn't have the courage to face a notorious outlaw, while the only man who does (John Wayne) has no interest in getting leading.
7. "Butch Cassidy and the Sundance Kid"
Paul Newman and Robert Redford star as the titular duo, riding in the last great "hurrah!" of the western outlaw that is the spiritual prequel to their Academy awarded Best Picture , "The Sting." It is a fun romp through the west with iconic acting and one of the most memorable explosions in film history: an exploding train car literal feet from the actors.
8. "Shane"
Arguably the best western of all time. "Shane" is the story of a hired gun, a man running from his past and hoping for a quiet future, that gets drawn back into violence to protect a small town from a vile cattle baron. It typifies the men of the Greatest Generation: men who always did their duty, no matter the cost.
Fun Fact: Hugh Jackman's last X-Men movie, "Logan" was loosely based on Shane.
9. "The Magnificent Seven"
The original, of course, in which a group of misfits band together to save a town from a murderous gang and find greater meaning to their dead end pursuits.This iconic western was based off a Japanese samurai film, "The Seven Samurai," and is the basis for "The Three Amigos" and multiple remakes since it's release.
10. "Unforgiven"
Gene Hackman, Clint Eastwood, and Morgan Freeman star in this tale of vigilante justice. What happens when outlaws are heroes of justice and the law is standing in their way?
11. "The Good, The Bad, and The Ugly"
This is final and best movie in the Man With No Name trilogy. Treasure hunting outlaws during the civil war face enemies on all sides in the story or treason, greed, violence, and frontier justice.
12. "The Searchers"
John Wayne plays a bigoted anti-hero returned from the Texas civil war only to find his family murdered or abducted by Comanches. This is a dark, complex look at racism, survival, and revenge in the west.
13. "Dances with Wolves"
A decorated soldier befriends the people he is supposed to fight in this story of love and allegiance. The film takes a hard look at one of the darker periods of American history and the disappearing frontier.
14. "Tombstone"
You didn't have to be an outlaw to be notorious in the wild west. The Earp brothers were unshakable law men who struck fear into the hearts of wanted men across the west. The group moves to Tombstone to settle down and become business men. But trouble always has a way of finding peaceful men.
15. "High Noon"
"The only thing necessary for the triumph of evil is for good men do nothing." Gary Cooper plays a sheriff who takes a stand when everyone behind him decides to run.
16. "The Wild Bunch"
The west had to die, outlaws were tamed with the country they rode. Right before the west was won, an aging outlaw is betrayed during his last job and chases his former friends into Mexico in a hail of bullets.
17. "The Outlaw Josey Wales"
A man bent on revenge joins a confederate troop during the civil war to hunt down the union soldiers who killed his family. This is one of Eastwood's best.
18. "The Assassination of Jesse James by the Coward Robert Ford"
The most artistic film on the list is also the most introspective, investigating how celebrity affects our culture. Obsession, a longing for greatness, and fame hold center stage as Robert Ford grows to despise his one time hero.
Keep reading...
Show less
Apr. 14, 2017 01:11PM EST
You've heard of the Screwdriver-- the easiest cocktail in the world to make, but what about a new, fresh take on the classic?
The Hacksaw is freshly squeezed blood oranges mixed with Pinnacle Vodka, and a splash of orange juice. For fun, throw in a quick splash of lime juice. Too easy!
Apr. 14, 2017 12:58PM EST
If you're looking for a new springtime cocktail, the Country-Politan is the drink for you. It's fresh, a little fruit and when done right-- nice to look at.
Ingredients:
Fresh lime juice
Ice
Lime wedge for garnish
Directions:
Mix Pinnacle Vodka, cranberry juice and fresh lime juice in a shaker. Pour into a chilled glass and enjoy!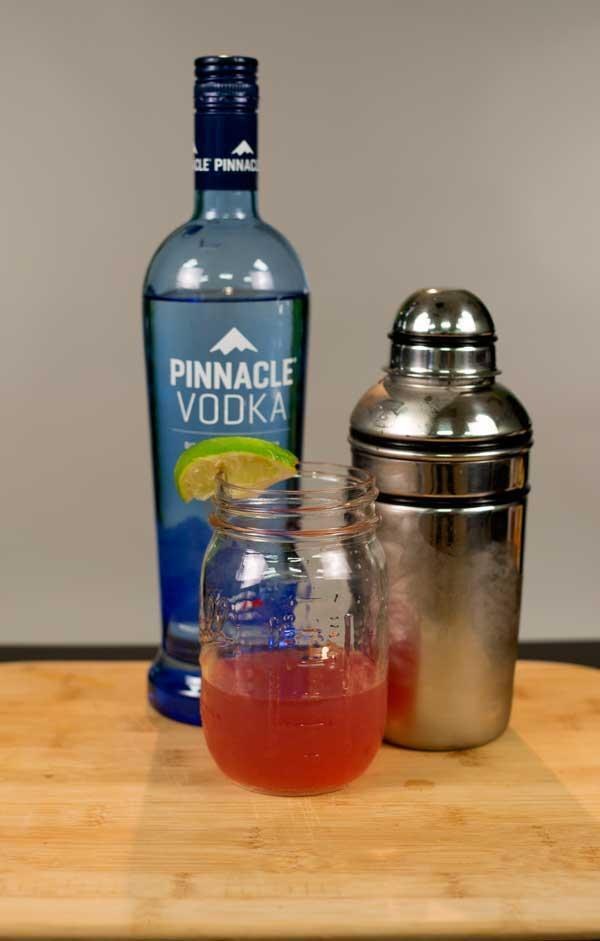 Apr. 04, 2017 03:44PM EST