5 Advantages Of Wearing Wedges Over Wearing Heels
Ladies, heels aren't all they're cracked up to be. They mess with your posture, put excessive pressure on your knees and the balls of your feet, and can even shorten your calf muscles with enough use.

Yikes.
So what's a girl to do if she needs to look just a bit taller or more put together? Do you have to give up heels entirely?
Not necessarily. Fortunately, wedges exist, and they do a bit more to help you mitigate the damage done by tiny, thin heels. They're not a total solution, but the negative effects are drastically reduced when wearing wedges. Especially a pair of comfortable, yet chic wedges from Ariat's new District Collection.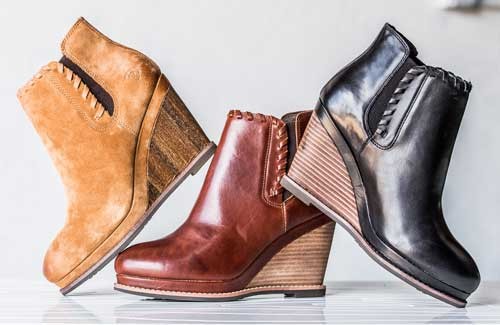 Ariat Belle Bootie
1. They're stable.

Allowing your foot to touch more surface area takes some of the strain off of the ball of your foot. Usually wedges have more cushion too, allowing your feet to at least be partially sheltered from the ground. Add in the often more slip resistant materials on the outside sole, like rubber or wood, and you have a heel you won't worry about falling in. Ariat's District Collection wedges feature Duratread rubber outsoles, which allow you take confident strides each step of your day.
2. They keep your arch supported.

Wedges usually command a wider footprint, meaning your poor arch doesn't have to support the entire foot while balanced on a platform the width of your pinky finger. This leads to less wear and tear over the years, producing happier feet. And you can probably walk further in them, too.
3. They're fashionable.
Fortunately, wedges aren't the shoes your grandma might wear to a bingo meeting. Gorgeous, chic, and stylish, you won't be judged if you love a good pair of wedges. The new Belle Bootie from Ariat is absolutely gorgeous and won't break the bank. You can wear them day or night-- with just about any outfit.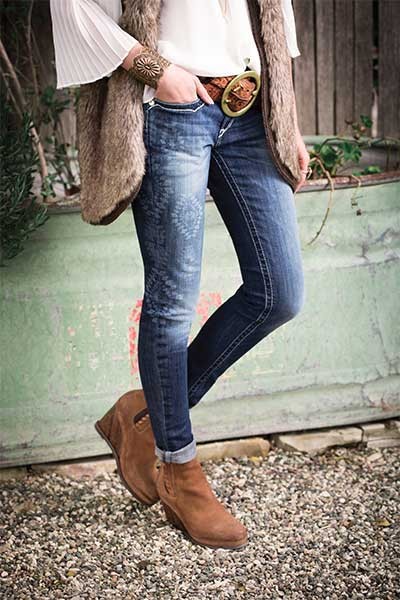 4. They aren't high heels.

Remember that time when you almost broke an ankle and possibly your face when your balance gave out on the way to a high school band concert, your instrument in tow? Or that time you felt sophisticated as hell on a first date, only to face plant in front of your budding romantic interest? If not, you probably repressed it. But fortunately, you can avoid making more of those memories in the future with a good pair of wedges.
5. They're not high heels.
Seriously, having wedges is like having real shoes for your feet, while still getting to keep everything sophisticated you love about heels. And again-- you won't fall over.
Chances are, if Luke Bryan asked to borrow your phone, you'd let him borrow it. Even if he was on stage in front of thousands of people. And chances are, unlike when you let other people borrow your phone, you wouldn't hand it over and say, "don't scroll left!" or "don't look at my texts." This is what happened to a fan when she let Luke borrow her phone on stage during a recent show.
Keep reading...
Show less
Jun. 26, 2017 01:24PM EST
Keep reading...
Show less
If "Bachelor In Paradise" is going to turn into a he-said-she-said, things are going to get really weird. The weirdness is starting with DeMario Jackson and his first interview with "E! News," where he described in detail everything that happened during his brief time on the show.
Keep reading...
Show less
Keep reading...
Show less
Lindsay Ell is a Canadian country singer who is currently signed to Stoney Creek Records, home of Thompson Square, Randy Houser and Parmalee. It's the sister label to Broken Bow Records, which currently boasts Jason Aldean and Dustin Lynch on its roster. She's released several singles to country radio including, "Trippin' on Us," "Shut Me Up" and "By the Way." None of them have cracked the Top 40. However, lately she's been getting a lot of heat for dating syndicated radio host, Bobby Bones.
Keep reading...
Show less
Last night (June 26), Kelsea Ballerini decided to have a party just to support females in country music. No special occasion, just an opportunity to talk about their triumphs and their challenges.
Keep reading...
Show less
Sam Hunt has taken the world's most unlikely compliment, "Body Like A Back Road" all the way to No. 1 on every country music chart out there and the song is in the Top 15 on Billboard's Hot 100 chart.
Keep reading...
Show less
The bachelors and bachelorettes have repacked their beach wear and returned to the magical shores of "Bachelor in Paradise." But this time, there are some new rules the producers have put in place to make sure another scandal doesn't threaten the show.
Keep reading...
Show less
Jun. 26, 2017 07:20PM EST
For a two-time CMA Entertainer of the Year, Luke Bryan sure has his fair share of stage mishaps. His most recent mishap was enough to make him stop and sit for a second.
Keep reading...
Show less