5 Advantages Of Wearing Wedges Over Wearing Heels
Ladies, heels aren't all they're cracked up to be. They mess with your posture, put excessive pressure on your knees and the balls of your feet, and can even shorten your calf muscles with enough use.

Yikes.
So what's a girl to do if she needs to look just a bit taller or more put together? Do you have to give up heels entirely?
Not necessarily. Fortunately, wedges exist, and they do a bit more to help you mitigate the damage done by tiny, thin heels. They're not a total solution, but the negative effects are drastically reduced when wearing wedges. Especially a pair of comfortable, yet chic wedges from Ariat's new District Collection.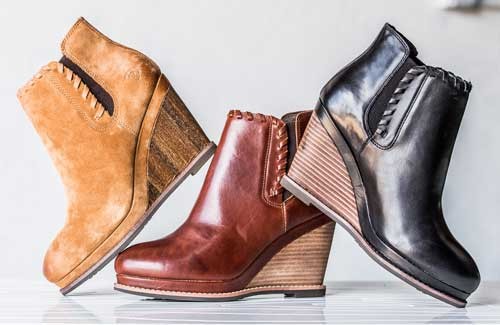 Ariat Belle Bootie
1. They're stable.

Allowing your foot to touch more surface area takes some of the strain off of the ball of your foot. Usually wedges have more cushion too, allowing your feet to at least be partially sheltered from the ground. Add in the often more slip resistant materials on the outside sole, like rubber or wood, and you have a heel you won't worry about falling in. Ariat's District Collection wedges feature Duratread rubber outsoles, which allow you take confident strides each step of your day.
2. They keep your arch supported.

Wedges usually command a wider footprint, meaning your poor arch doesn't have to support the entire foot while balanced on a platform the width of your pinky finger. This leads to less wear and tear over the years, producing happier feet. And you can probably walk further in them, too.
3. They're fashionable.
Fortunately, wedges aren't the shoes your grandma might wear to a bingo meeting. Gorgeous, chic, and stylish, you won't be judged if you love a good pair of wedges. The new Belle Bootie from Ariat is absolutely gorgeous and won't break the bank. You can wear them day or night-- with just about any outfit.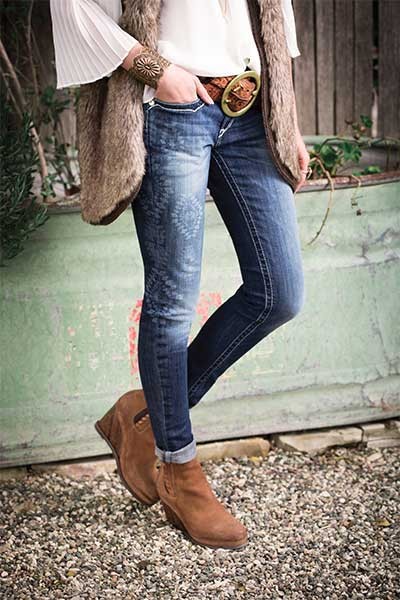 4. They aren't high heels.

Remember that time when you almost broke an ankle and possibly your face when your balance gave out on the way to a high school band concert, your instrument in tow? Or that time you felt sophisticated as hell on a first date, only to face plant in front of your budding romantic interest? If not, you probably repressed it. But fortunately, you can avoid making more of those memories in the future with a good pair of wedges.
5. They're not high heels.
Seriously, having wedges is like having real shoes for your feet, while still getting to keep everything sophisticated you love about heels. And again-- you won't fall over.
Keep reading...
Show less
Just days after Trisha Yearwood led 20,000 people in the National Anthem before the Nashville Predators' playoff game, she took to "Today" as a scheduled guest to discuss new happenings with her cookware, but wouldn't do it out of respect for the Manchester attack victims after the Ariana Grande concert.
Keep reading...
Show less
It is unusual for anyone to know what will happen on "The Bachelor" or "The Bachelorette." Everyone signs non-disclosure agreements, leaving gossip magazines and websites to speculate and predict who will win and whether the couple will get engaged or not. Rachel Lindsay is breaking protocol.
Keep reading...
Show less
May. 23, 2017 01:33PM EST
I will say-- if you would've asked me in 2002, who would end up a big-time mogul and consistently creating between Britney Spears, Christina Aguilera, Jessica Simpson and Mandy Moore, I'm not sure I would've said Jessica Simpson.
Keep reading...
Show less
Just days after releasing a supposed diss track aimed at Taylor Swift, Katy Perry's episode of "Carpool Karaoke" with James Corden aired. And that's only weird because she finally answered questions about Taylor and even said "Bad Blood" was written about her.
Keep reading...
Show less
Daddy may be on his way to the Stanley Cup Finals, but he still takes time for the little things.
Keep reading...
Show less
Because all good trends come back around, this summer's hottest accessory is a basic flotation device that actually serves as storage and we can't get enough.
Keep reading...
Show less
May. 23, 2017 11:11AM EST
Keep reading...
Show less