We're sending our condolences to Alan Jackson after losing his mother Saturday, Jan. 7, 2017.
Mrs. Ruth Jackson was known to friends, family and country fans as "Mama Ruth." She died peacefully at her home in Newnan, Georgia. He was 86.
Mama Ruth was born on April 2, 1930, in Lowell, Georgia. She married her husband, Joseph Eugene "Daddy Gene" Jackson, when she was 16 and had five children, daughters Diane, Cathy, Carol and Connie, and son Alan. She is survived by all her children as well as 12 grandchildren and 9 great-grandchildren. Her husband passed in January of 2000.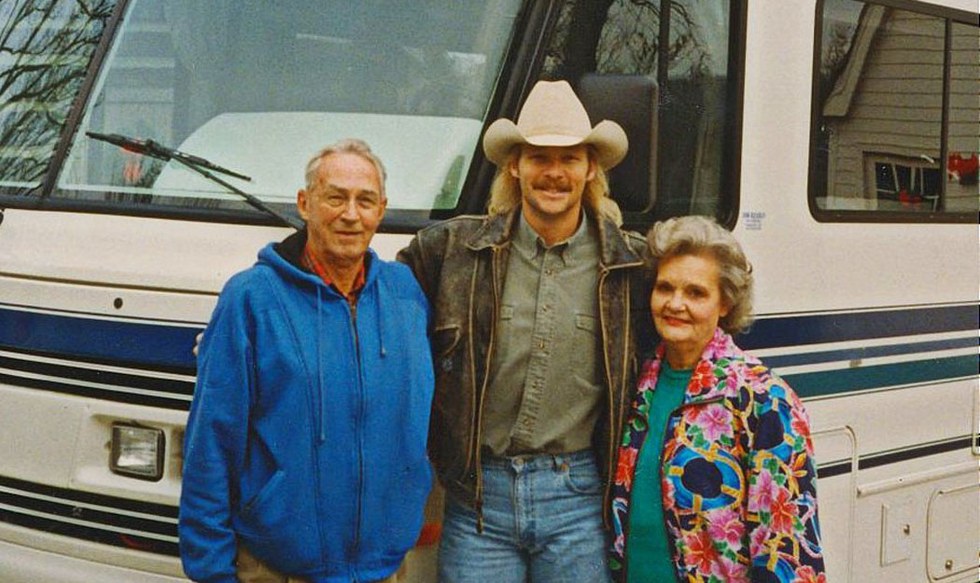 Courtesy of Alan Jackson
Many of Jackson's fans got to know his mother through his music. "Home," a song Alan wrote and recorded for his debut album, chronicled his parents' life and his upbringing, as well as the home -- built around an old tool shed 70 years ago -- that she lived in until the day she died:
My mama raised five children – four girls, and there was me.
She found her strength in faith in God and a love of family.
She never had a social life; home was all she knew
Except the time she took a job to pay a bill or two.
Mama Ruth was also the inspiration behind Jackson's Precious Memories gospel hymn collection that was creates as a Mother's Day gift and was never intended to be released commercially. Alan's second holiday album, Let it Be Christmas, was also created as a result of Mama Ruth's desire to hear her son record traditional holiday songs.
To read more about the life of Mrs. Ruth Musick "Mama Ruth" Jackson, go to www.McKoon.com.